Shopping Cart
Your Cart is Empty
There was an error with PayPal
Click here to try again
Thank you for your business!
You should be receiving an order confirmation from Paypal shortly.
Exit Shopping Cart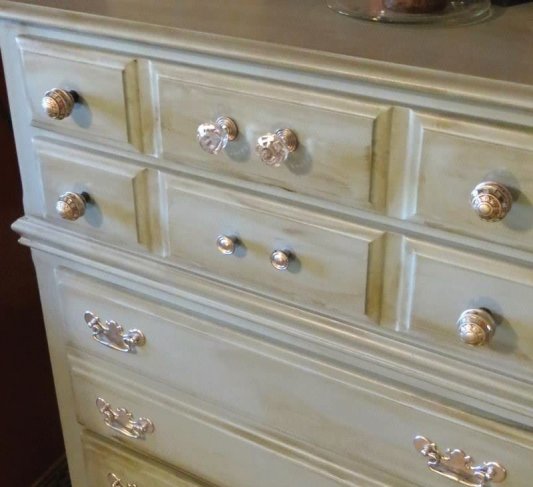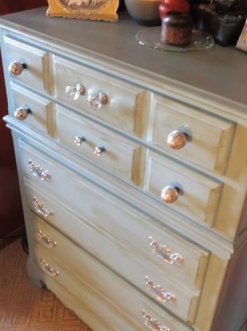 I re-finished a dresser with great bones, giving it a fresh spring time makeover. Bless her heart, she was in bad shape with a very weathered and water spotted finish.  After one coat of Kilz, a coat of French Country blue latex paint, a glaze of walnut stain, and a few new pieces of hardware, she was good as new---ready to watch styles come and go for years to come. #repurpose #refinish #dontthrowitoutcallme
We have had an unusual amount of rain here in the Tulsa area this spring, and lots of cloudy days.  I love to get out in work in my garden, but it's been soggy for weeks.
Thought I'd at least make it out to the back porch (drain the potted flowers before they drown) and brighten up the garden with some painted projects.  Here's to future sunny days!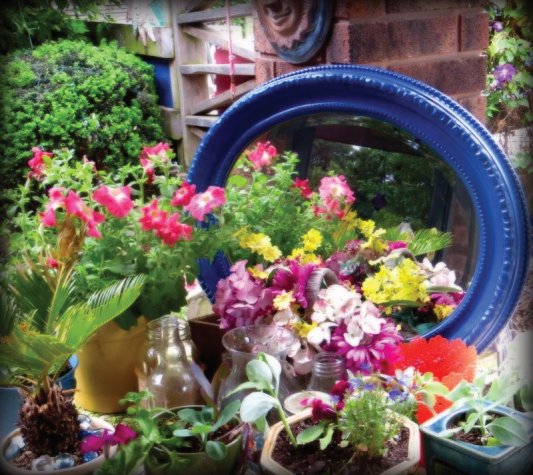 My daughter moved this weekend and the old saying, "one man's trash is another man's treasure" was tested on a mirror she no longer wanted.  I painted it Caribbean blue and glazed it with a pecan stain.  Flowers are so pretty---why not see all angles? 
I re-painted our favorite pool sidekick from last summer.  Our seagull friend had totally washed out in the elements, so I gave him his colors (and eyes) back~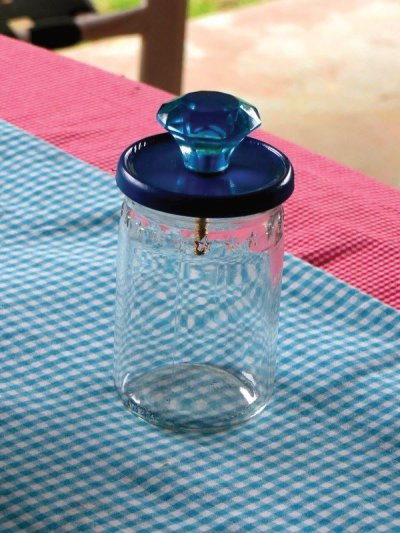 Quaint Storage Jars~
I painted the lid to an old jar and screwed in a cabinet knob that didn't match my bathroom any longer.  I have to wait until someone finishes off the pickles, mayonnaise
and olives before I can complete the set.  Hmmm...sandwiches for dinner?
Fun, back porch, painting day~
Here's to aging homes!
You know why?  Because you can wake up one morning and decide to paint kois fish on your back porch, without worrying whether or not you'll mess up the fresh cement. 
I've definitely found that I have gotten more creative with my projects now that my house is nearing the  big 3-oh.  Fun stuff.
Here's my how-to: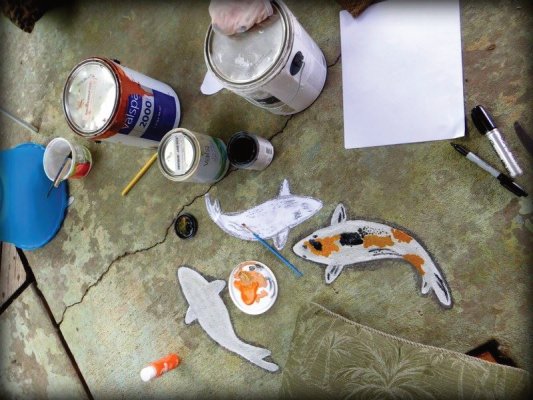 I drew a template of my fish on plain white paper (the fish closest to the paint can is my pattern. )  I used chalk to outline them onto cement.
I painted the fish with Kilz, (white paint could be used) in a swimming pattern.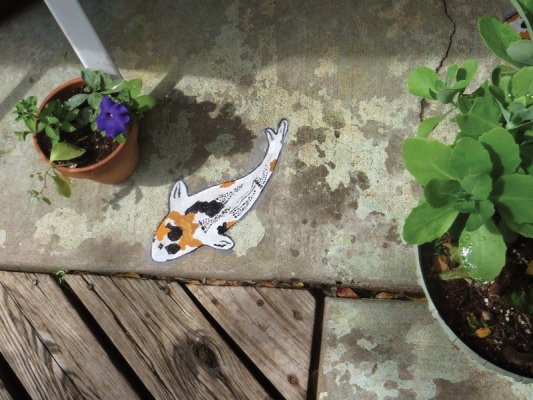 I used left over, latex paint(remember the orange bathroom?) to paint the details onto my kois in little dots, lines and patches.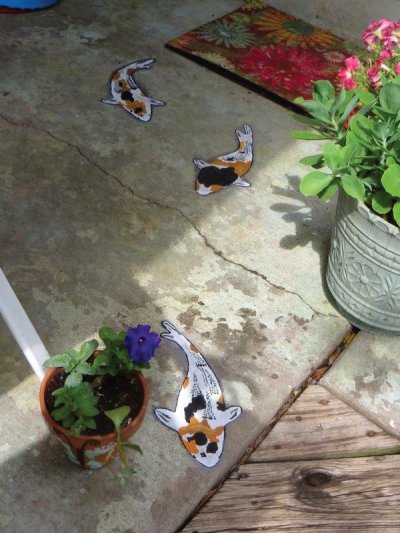 And voila'!  Three happy, good luck charms swimming from my back porch door toward the pool deck.




So, here's to aging, cracked back porches with a little character to boot~







0

/