Shopping Cart
Your Cart is Empty
There was an error with PayPal
Click here to try again
Thank you for your business!
You should be receiving an order confirmation from Paypal shortly.
Exit Shopping Cart
                                 SWEET ANNABELLE IS TURNING 3!
We're celebrating my youngest grand daughter's birthday today with a fall flavored birthday party complete with a camp fire to accommodate the roasting of marshmallows for s'mores.
My daughter showed Annabelle the pic of the campfire birthday cake I made for her, and she said her eyes just lit up. It garnered a huge smile too! Mission accomplished.
I found the inspiration for this cake on Pinterest. It was really fun to make.
Here's my how to:
                                                 CAMPFIRE CAKE
I made a box chocolate cake mix and added double melted butter instead of oil, cracked in an extra (grade A XL) egg, and used milk instead of water for a bakery style decadent cake--
If you've followed the other cakes I've made, you'll know this is my MOST favorite part of the caking process...the FROSTING! I made a batch of Hershey's chocolate icing for the rich moist cake. The recipe can be found on the back of the Hershey's Cocoa container. It's 2/3 cups Hershey's Cocoa, 1/2 cup melted butter, 1/3 cup of milk, 3 cups of powdered sugar, and 1 tsp. vanilla.  Just melt the butter, add the cocoa to butter, and alternate blending in the powdered sugar and milk as you beat it with a mixer.  Then add in the (good quality) vanilla at the end when smooth. Without fail a family member will be waiting for the spoon to lick. Just hand it back over your right shoulder~
I used Jolly Rancher candies for the flames. Line a baking sheet with foil, spray with Canola oil, and place package of unwrapped red hard candies on foil. Bake in oven for 7-10 minutes at 350 degrees, until melted. Let candy cool and gently lift from foil. Have fun breaking it into shards for the cool flames!
I used Creme de Pirouline chocolate hazelnut cookies for the logs. Place the shards of candy in a flame pattern in the center and add in logs (I broke some of them into pieces to fit  better.)  Then add a garland of fat, fluffy, sugary marshmallows around the bottom of the cake.
Grab your sticks---it's time to make s'mores! Speaking of which, individual packages of s'more making supplies are a great idea, especially since we have 5 grand kiddos under the age of 7. Moms and Dads can just grab a pack by the fire and roast away. There are even Wet Wipes included for the sticky aftermath.
HAPPY FALL Y'ALL!!!  And a big happy birthday to our precious Annabelle!!! 
I haven't done a Rockin' Recipe in a while, and since it's still raining puppies and kittens (cloudy with a slight drizzle) here in my neck of the woods, I had a baking urge and scanned the fridge for ingredients.
I referred to my Pinterest page and came up with easy cream cheese chocolate danish.  I tweaked the recipe to make it waist line friendly since there's not much outdoor exercise happening in this soggy weather---no walk around the block, equals cutting calories in order to fit properly into swim suit in a month.
Technically danish are a Denmark specialty, but since they're Scandinavian, I decided to cheat a bit and listen to Swedish pop group, ABBA while I baked.  "Take a Chance on Me" whisked me right out of my rainy weather rut~
Recipe below for "Dancin' Queen Danish"---(tip:  If you dance while baking, you burn calories and feel less guilty while eating the flaky, creamy, chocolatey goodies.)
DANCIN' QUEEN DANISH---
One container reduced fat croissant dough (I used Pillsbury)
One 8 oz block of reduced fat or Greek yogurt cream cheese
1/2 cup of Truvia granulated sweetener (or Stevia for baking in the equivalent of 1 cup of regular sugar)
1/2 cup dark chocolate chips (less calories, more anti-oxidants)
1 teaspoon vanilla
Preheat oven to 350 degrees.
Roll out croissant dough into one big rectangle and pinch perforated areas together.  Mix softened block of cream cheese, sugar and vanilla until creamy.  Spread cream cheese mixture over dough, and sprinkle on chocolate chips.  Roll up dough and cut into pinwheel circles.  Place on cookie sheet that's been lightly coated with non-stick spray.  Bake for 12-15 minutes, or until golden brown. 
*The more these set up after baking (like the next morning with coffee) the better they are.  You could cool in the fridge to speed up the process. 
These are totally guilt free if you dance to "Waterloo" like no one's watchin' while baking~ Enjoy!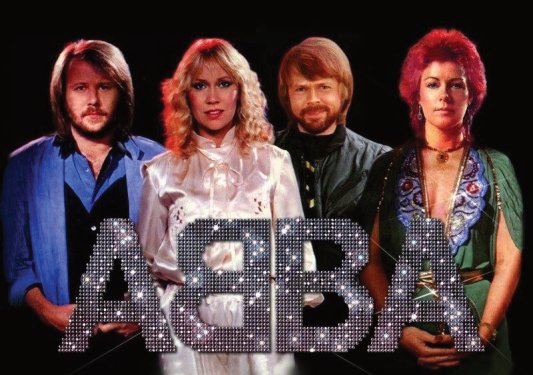 My musical inspiration for today's rainy day baking---ABBA!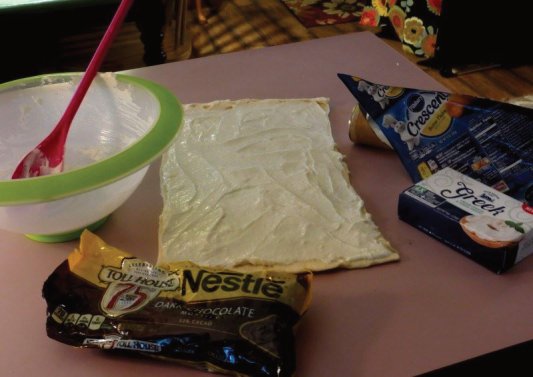 I love the new Greek yogurt cream cheese!  It's amazing on Pretzel Thins too---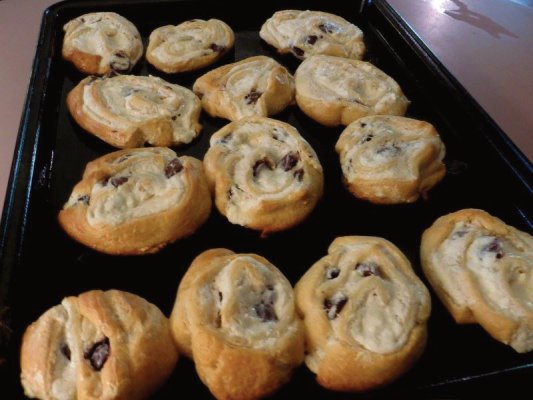 Dancing break while they cool!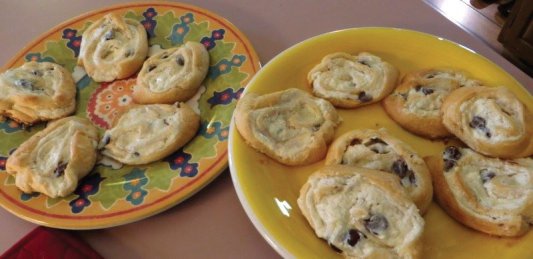 Coffee time---bring on the rain!
My family loved the Neil Young inspired "cinnamon" zucchini cake so much, I decided to make Monty's favorite...chocolate (with zucchini, of course.)  I still have 4 or 5 beautiful zucchini squash in the fridge from before the squash bug plight.  This was an amazing way to incorporate them into a recipe!
Once again, this delicious chocolate cake has 2 heaping cups of grated zucchini in it.  Monty said he would have never known had I not told him. The grated zucchini just makes the cake moist and tender.
Shhhhh...this is a great recipe to sneak some veggies in for the kiddos.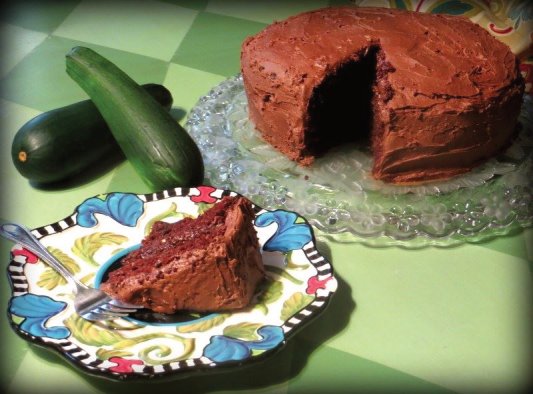 Here it is:  And you don't even have to break out the mixer for this one!
Chocolate Zucchini Cake~
Ingredients--
1/2 c. oil (vegetable, canola or coconut oil)

1 1/2 cups sugar
2 tsp vanilla
1 egg
1/2 cup milk
2 heaping cups grated zucchini
2 c flour
1/2 c cocoa
1 1/2 tsp baking soda
1/2 tsp salt
1/4 tsp cinnamon
____________________
Preheat oven to 350 degrees--
Mix oil,egg, sugar, vanilla, milk and zucchini in a large mixing bowl.  Add flour, cocoa, baking soda and salt.  Mix by spoon---batter will be fairly thick.
Spoon into well greased and floured 13x9 or two 9 inch round cake pans, and bake at 350 degrees for approx. 25 minutes.  
While cake is baking make this decadent recipe for home made chocolate frosting!
______________________
Decadent Chocolate Frosting
2 3/4 c powder sugar
6 tblsp cocoa powder
6 tblsp softened butter
5 tblsp evaporated milk
1 tsp pure vanilla
Mix all ingredients by hand in mixing bowl. This makes a fudge-like frosting that is to die for!
Cool cake completely, frost and consume with less guilt than if it didn't have veggies in it~Enjoy!!!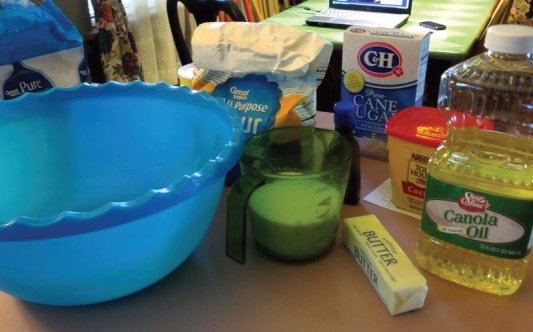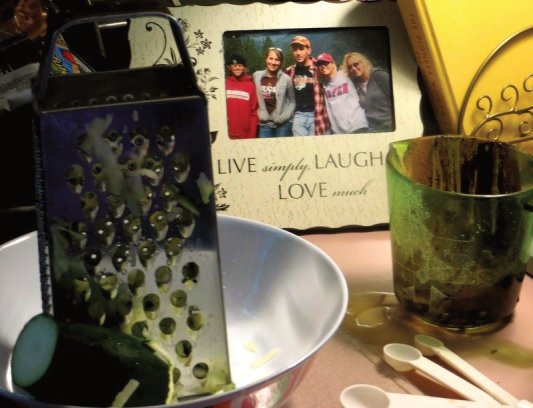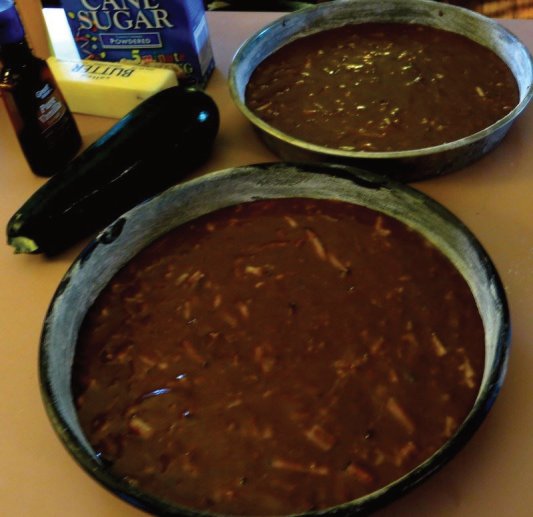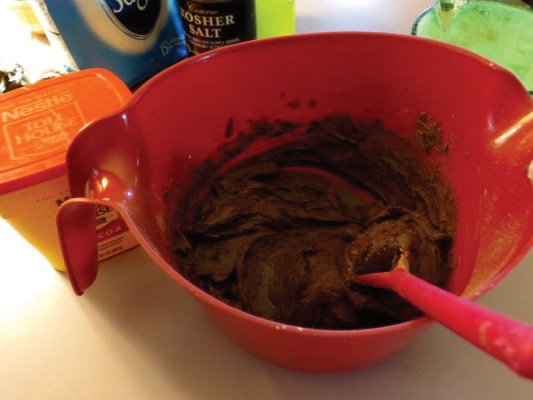 What child would balk at scarfing down this piece of chocolate cake?           Hide the zucchini first...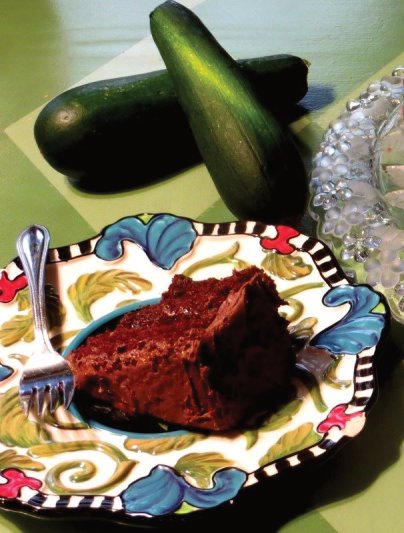 Speaking of those lycopene rich lovelies, here is the best way that I've found to eat a garden fresh tomato.
This isn't exactly a "Rock-n-Recipe."  Let's just hum the old tune, "You Say "Tomato," I Say "Tomato" to this one.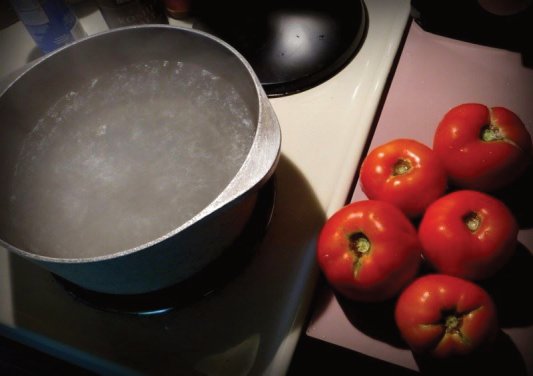 First start with fresh garden tomatoes and a big pot of boiling water~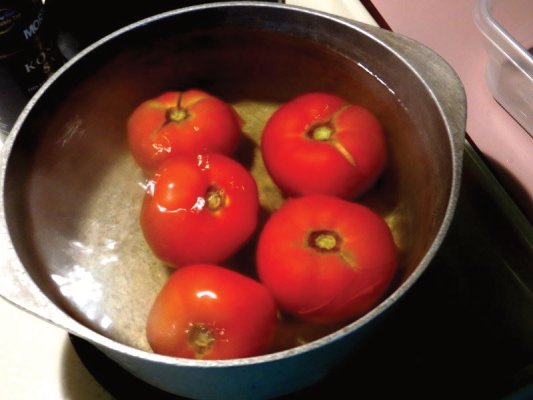 Next, place said tomatoes into the scalding water for 20-30 seconds until their skins begin to split a bit---everyone into the hot tub!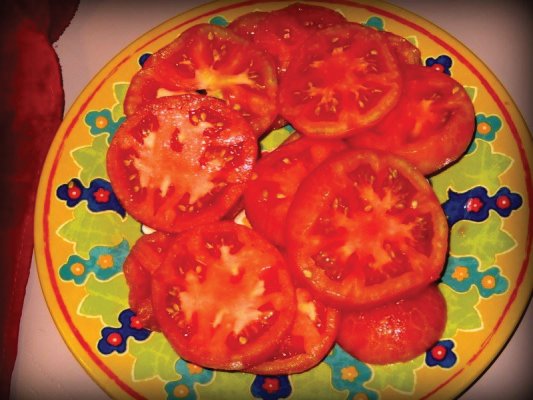 Then run them under cold water--the skins just slip right off.  Slice them and place in fridge until co-00ld.  Salt...pepper...devour! 
HAPPY SUMMER!
MUSIC AND MEALS~
I haven't done a rock-n-recipe in a while---today it was Neil Young and Zucchini Cake with Cinnamon Cream Cheese Frosting.
"What does Neil Young have to do with cake?"  you might ask.  "Cinnamon Girl," of course!  I hope you get a chance to try this amazing cake, and don't forget to put your Neil on.  "I could be happy for the rest of my life with a...(cinnamon cake.)"  You know...artistic license and all~
Here's the recipe below.  I used fresh zucchini from my garden.  It is the most tender, moist and delicious cake.  It's very similar to a carrot cake. You certainly don't taste the veggies in it---great way to sneak in some extra nutrition for the kiddos too.  Now to keep all fingers out of it until Father's Day dinner tomorrow after church.
ZUCCHINI CAKE WITH CINNAMON CREAM CHEESE ICING~
Pre-heat oven to 325 degrees
Cake--
3 C. Flour
3 C. Granulated sugar
1 1/2 tsp. Baking soda
1 tsp. Baking powder
2 tsp cinnamon
Mix dry ingredients and then add the wet ingredients below and mix well with spoon. 
1 1/2 C. vegetable oil
4 eggs
3 cups grated zucchini (un-peeled)  I like the green bits---adds color and freaks people out when they realize zucchini is one of the main ingredients in this amazing cake.
Pour into 3 8 inch cake pans that have been sprayed well with non stick spray and lined with parchment paper on the bottom.
Bake for approx. 25 to 30 minutes or until toothpick comes out clean when inserted.
Let cakes cool completely and then ice with cream cheese icing (below)
Icing:
8 oz cream cheese (softened)
1/2 butter  (softened)
3 cups powder sugar
1 tsp vanilla
1 tsp cinnamon
I added 1/2 cup of cinnamon chips into my batter and and pressed extra cinnamon chips around the sides of cake to make it prettier and add some extra cinnamon richness.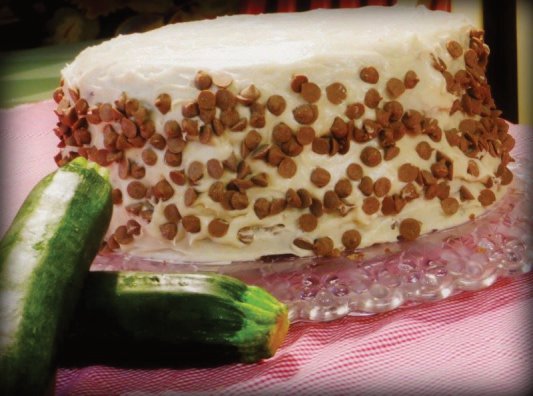 A sweet way to get your veggies
Click on the video to enjoy some classic Neil Diamond----goodness, he is an incredible talent!
Woah baby!  This cake rocks!!  I'll have to admit, I didn't listen to any choice music while baking this beauty like I usually do when I cook.  I watched old SNL re-runs on my little kitchen t.v.--- Betty White was the host...it made me smile the whole time.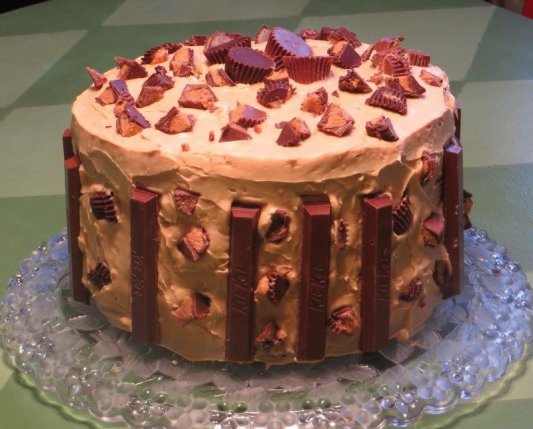 Ultimate Chocolate and Peanut Butter Cake
"NEAR DEATH BY CHOCOLATE AND PEANUT BUTTER"
Cake ingredients:
1 box of chocolate cake mix
1 small package of Jello instant chocolate pudding mix
1 cup sour cream
1 cup vegetable oil
4 eggs beaten
1/2 cup milk
1 teaspoon vanilla extract
2 cups mini Reese's Peanut Butter cups, chopped
(I doubled cake ingredients and made a three layered 9 inch cake and a dozen chocolate cupcakes--I just topped the cupcakes with a few dark chocolate chips for frosting just before I pulled them out of the oven.) 
Cake directions:
1. Preheat oven to 350 degrees F.
2. In a very large bow, mix together everything except the Reese's Peanut Buttercup. Batter will be very thick, stir in the Reese's Peanut Butter cups. Pour batter into cake pans that have been greased and floured. Bake for about 10 minutes more than the cake box suggests or when checking with a tooth pick it comes out clean.
3.  I used 3 nine inch layer pans and also made 1 dozen cupcakes-
4. Remove from cake pans and set on cooling racks and cool completely.
Frosting Ingredients:
1 cup butter, at room temperature
1 cup smooth peanut butter
4 cups powdered sugar
1/4 teaspoon salt
1 teaspoon vanilla
1/2 cup whipping cream
Frosting directions:
1. In a mixing bowl, cream butter and peanut butter until fluffy. Add sugar and continue creaming until well blended. Add salt, vanilla, and whipping cream, blend on low speed until moistened. Then beat at high speed until frosting is fluffy.
2. Frost cooled cake.
I chopped Reese's Peanut Butter mini's and put some between each of my three layers of cake.  Then sprinkled chopped Reese's on top and around sides along with Kit-Kats. 
This cake was for my handsome husband's birthday this weekend.  We all got stomach aches from eating too much!  It is irresistible! The perfect combo of chocolate fudgy goodness and salty peanut butter decadence.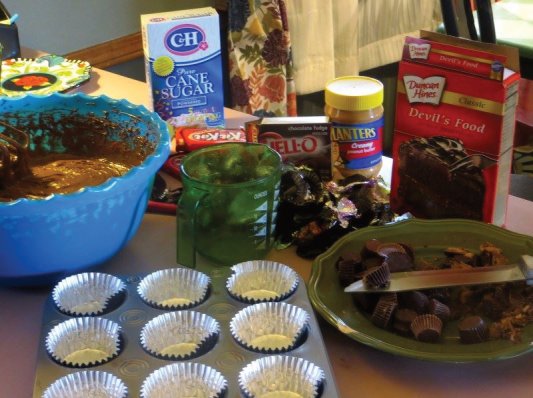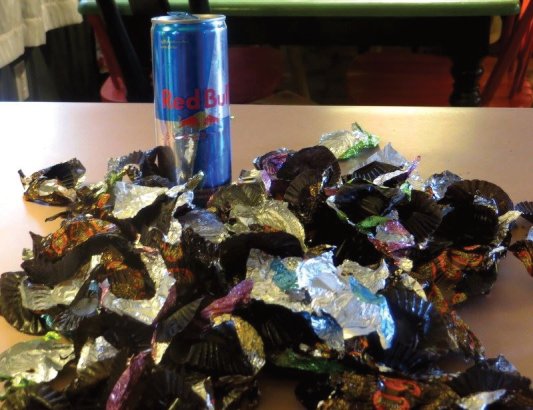 Just a random pic of my Red Bull---gave me wings while I unwrapped all of those Reese's Peanut Butter cups!  You will want to follow this step too!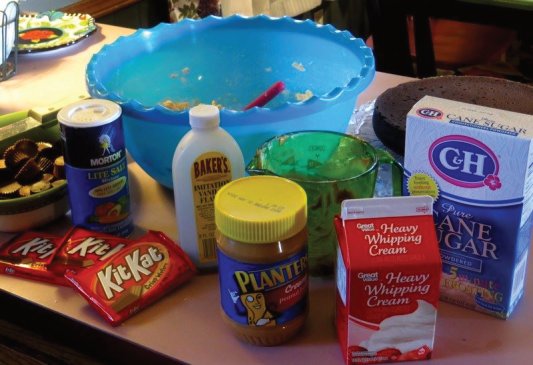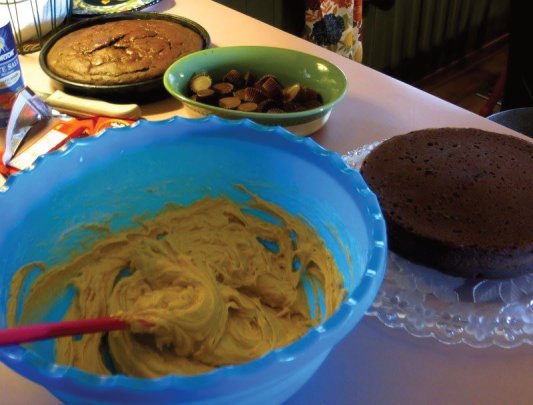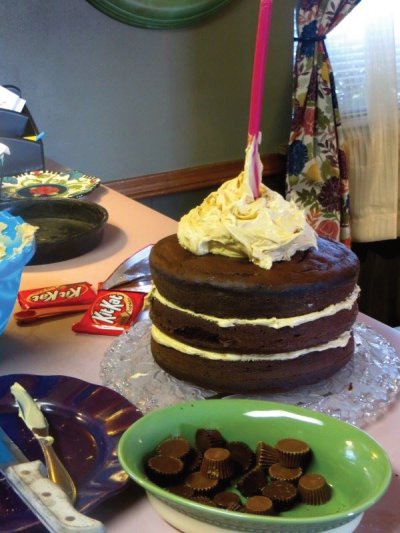 I wanted to stop here and just dig in with this giant spoon!  Self control ~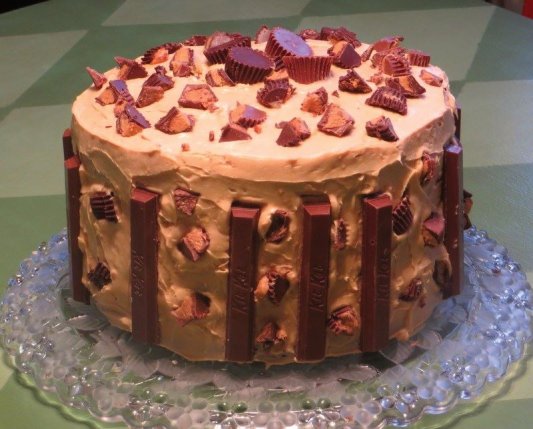 TA-DA!  Near death by peanut butter!
This week's Music-n-Meal/Rock-n-Recipe is for a succulent Cuban Pork Sandwich  that's slathered in a roast garlic, lime, cilantro mayonnaise, and stuffed with caramelized onions, pickled jalapenos, and fresh cilantro.  You have to try this one---totally worth the time and effort!
I played music by Ibrahim Ferrer while cooking.  Between the roast garlic and pork drifting through the air and the Latin flair music, I felt like I was at an open air Cuban marketplace.  A great sensory experience!
Here's the "how to."
Begin with a 3-4 lb pork shoulder roast.  We have an incredible meat market here in Coweta, and get all our steaks, roasts, etc. from Meat-n-More.  I love butcher shops and meat markets.  You get such fresh, choice cuts of meat that can be trimmed to order.  You'll want to leave the fat on the pork for this one though.  The fat will make wonderful juices and make for a richer sandwich.
In a large bowl, mix together 3 cups of orange juice, the juice of two limes, two tablespoons of minced garlic, two tablespoons olive oil, and two tablespoons of fresh oregano.  Place the pork shoulder roast in marinate and let sit for at least 12-24 hours.  The citrus really breaks down the meat and makes it succulent.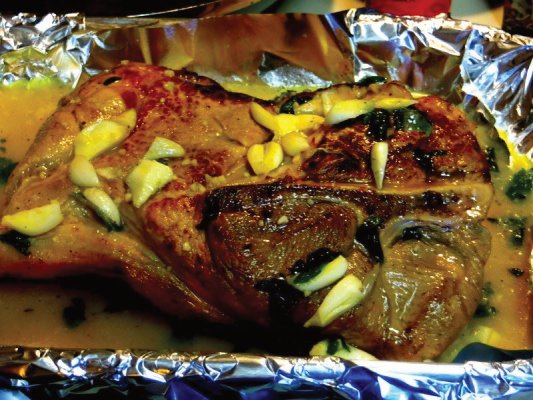 After the pork shoulder has marinated for 12-24 hours, remove it from the liquid and braise it in a frying pan---save the marinate and pour over pork shoulder before putting it in the oven.  Make a tin foil tent, and bake at 350 for 2 hours covered.  Remove foil tent after 2 hours and then continue to bake for an additional 2 hours, basting it with the juices every 15-20 minutes.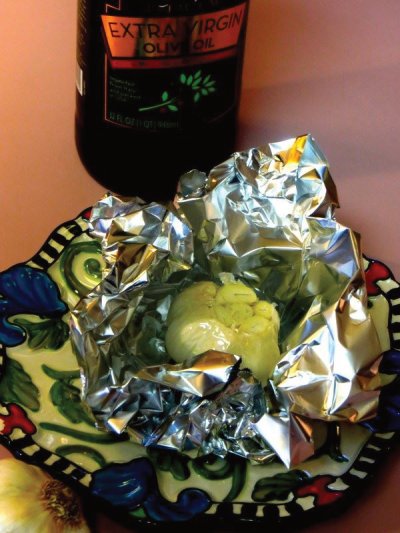 While pork is cooking in oven make a foil bowl.  Cut the top off a garlic clove and drizzle it with olive oil.  Pinch the top of the foil together and bake for 30 minutes until roasted.  This will be for the garlic, cilantro mayonnaise.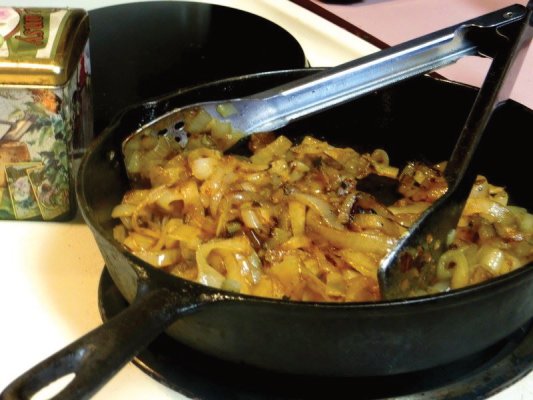 Slice up 2 large yellow onions and caramelize in a frying pan with two tablespoons of olive oil.  Season with salt and pepper.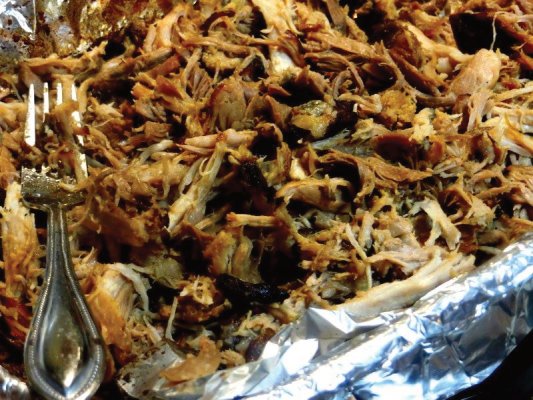 After 4 hours of roasting the pork shoulder should be falling off the bone.  If not, continue basting and cooking until tender.  Remove pork from oven and use two forks to pull the meat apart.  You'll have this salty, marinated pan of amazing succulent pork to drool over.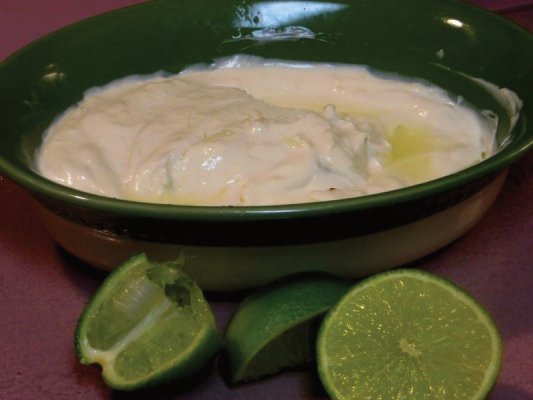 I used the small jar of Hellman's light mayonnaise (I know, why count calories now, but it's what I like) which was the perfect measurement for sauce.  Or, you can use one cup of mayonnaise.  Squeeze in the juice of 1/2 a large lime, and add the soft roasted garlic cloves that you baked alongside the pork earlier.  Stir together.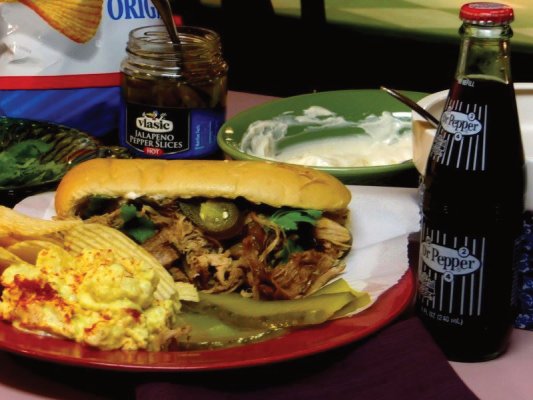 Slice apart a crusty on the outside-soft on the inside roll and slather with mayo.  Heat in oven until the sauce is bubbly.  Layer bread with pork, caramelized onions, pickled jalapenos, fresh cilantro, and more of the mayo.
Oh baby...you did it!
This Cuban sandwich is especially good with potato salad, or salty potato chips (or both) sliced dill pickles and a icy cold Coke or Dr. Pepper.  I went for Diet Coke (I know...more futile calorie counting) and my husband and son went for the DP.
I hope you get to try this.  It's an experience as much as it is a meal. Be sure to turn on some spicy Cuban music, like Ibrahim Ferrer while your cooking this.   You'll feel like your on a Latin excursion.    Enjoy!!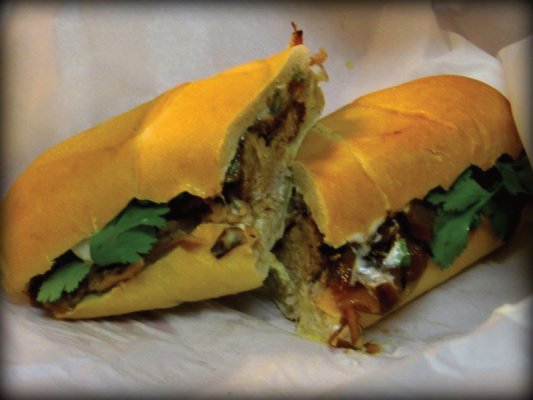 This will make almost a dozen sandwiches---great for a crowd! 
*I wanted to add a music video with this recipe, but my server site is having some issues with video loading---please be sure to look up Ibriham Ferrer.  Amazing musician, incredible music! 
This week music and meals features a song by, The Brother's Johnson.  "Strawberry Letter 23."  The first few bell notes, sure brings back memories of  summer days in the 70's.  Just makes me sigh~
My recipe is for a cake that I made yesterday for my daughter's 26th, (oh Lordie, I feel old) birthday.  I call it my strawberry mousse, chocolate fortress cake. 
It's a rockin', three layer, chocolate fudge cake, filled and covered in delightful strawberry mouse, surrounded by an abstract tower of chocolate, and topped with chocolate covered strawberries. 
 We just walked in from church, and dinner's not until 5:00 so, I've got my work cut out for me trying to keep my husband and son out of it---lots of hand slapping going on.
"Strawberry Letter 23" and a big slice of strawberry chocolate heaven.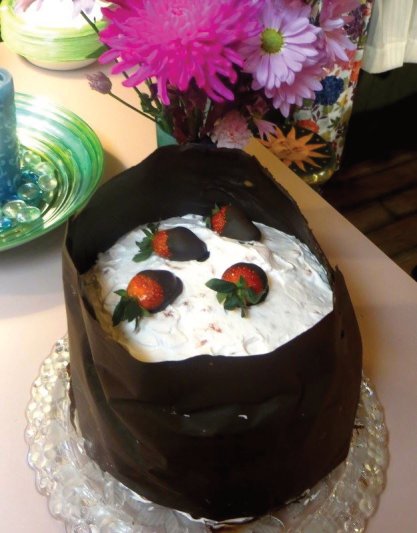 The finished product---I love how the fortress of chocolate is protecting the pillow-y strawberry mousse.  I cannot wait to cut into the three layer wonder and let the wall fall where it may...hopefully, mostly on my plate~
List of ingredients:
2 chocolate fudge cake mixes--prepared as directed.  You'll have three layers and enough left over for a batch of cupcakes :)
Strawberry Mousse for filling--
41/2 cups of whipping cream
1/2 cup of icing sugar (powder sugar)
2 tblsp of strawberry preserves or jam
2 cups pureed fresh strawberries
20 oz of semi-sweet baking chocolate
parchment paper
chocolate shavings for topping as well as 4 chocolate covered strawberries
I started with two boxed cake mixes.  I used chocolate fudge.  It'll make your three layers, plus a batch of cupcakes!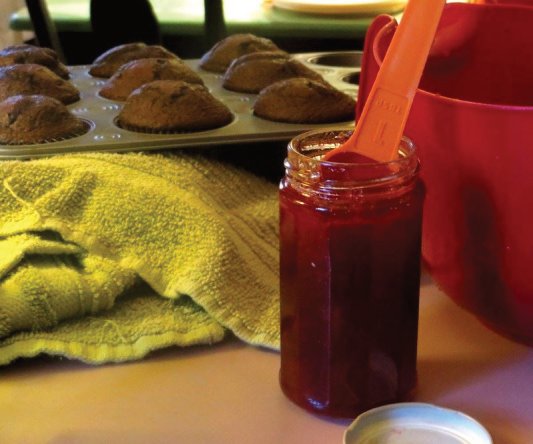 See, there they are (the extra cupcakes) photo bombing the strawberry preserves used for the mousse.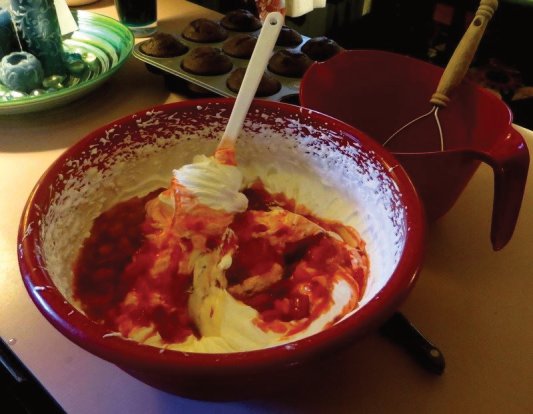 You'll need to whip up 41/2 cups of whipping cream with 1/2 powdered sugar.  Then fold in gently, 2 cups pureed strawberries---I used an old fashioned potato masher to puree strawberries, and 2 heaping tbls strawberry preserves.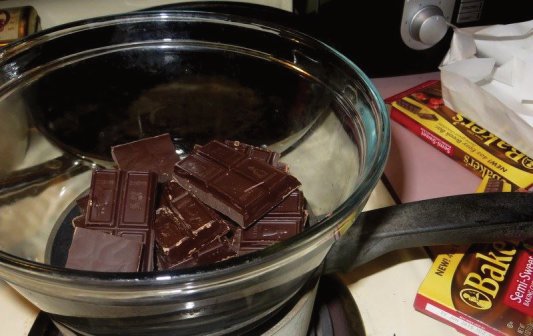 For the chocolate fortress around the cake, melt 20 oz of semi sweet baking chocolate over a double boiler until smooth.
As the chocolate is melting, ice the three layers in between and on top with the strawberry mousse.  Then lick the bowl---I have no self control--
You're getting close!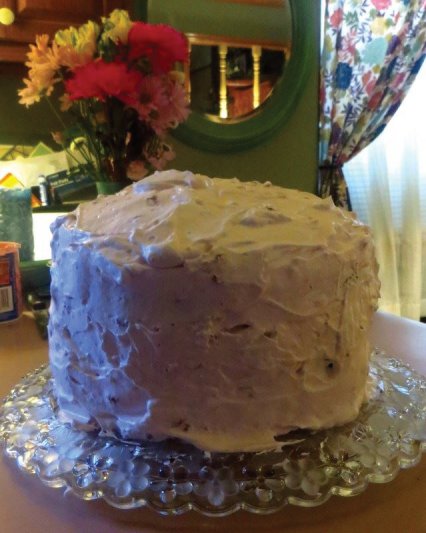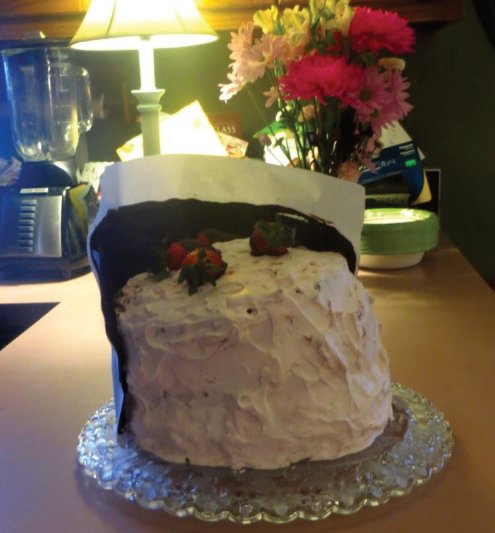 Now the tricky part.  Fold two rectangles of parchment paper the length of a cookie sheet.  Pour half of the melted chocolate onto each rectangle, spreading it out with a spoon so each one will wrap half way around your cake and connect at the seams.  Place the cookie sheets of chocolate in the refrigerator until the chocolate is set.  Then flash melt the chocolate rectangles for approximately 30 seconds.  Carefully lift the parchment paper and place around outside of cake, pressing gently until adhered.  Leave on the parchment paper and place back in the refrigerator until chocolate is set again.  Remove cake and gently peel off the parchment paper.   Repeat process for the second chocolate sheet, gently pressing the seams of the chocolate coating where they meet at sides to construct one solid wall of rich, decadent chocolate around your luscious strawberry mouse, fudge cake.




I hope you get a chance to listen to "Strawberry Letter 23" and eat something delightfully strawberry.  The song truly evokes carefree memories of the fabulous 70's.  I was 11 years old, and roller skated, or skateboarded everywhere---on an old wooden skateboard with metal wheels non-the-less.  




Here's to bell bottoms, and amazing music with a funky groove~~~


















































































0

/