Shopping Cart
Your Cart is Empty
There was an error with PayPal
Click here to try again
Thank you for your business!
You should be receiving an order confirmation from Paypal shortly.
Exit Shopping Cart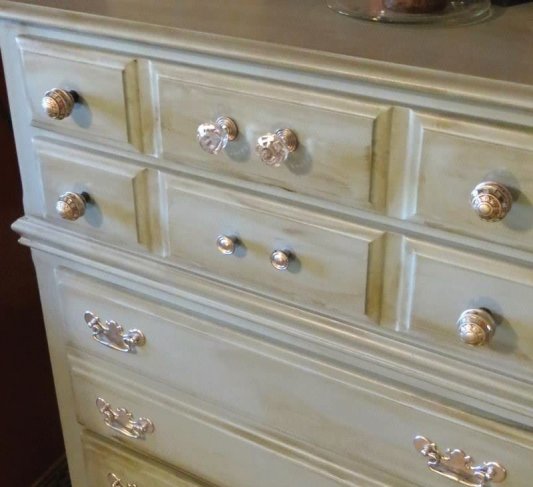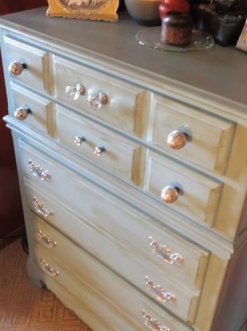 I re-finished a dresser with great bones, giving it a fresh spring time makeover. Bless her heart, she was in bad shape with a very weathered and water spotted finish.  After one coat of Kilz, a coat of French Country blue latex paint, a glaze of walnut stain, and a few new pieces of hardware, she was good as new---ready to watch styles come and go for years to come. #repurpose #refinish #dontthrowitoutcallme
Monty and I did a little makeover a couple of weeks ago on our hall bathroom that was trapped in 1988.  I had originally gone with the rose-victorian theme for my daughters, but my poor son ended up having to get ready in the space until he moved out...poor dude.  He was a sport.
My husband even surprised me by putting a new state of the art toilet stool in that has the no-slam lid closing technology...it's the little things.
I've been inspired by warm colors---oranges, olive greens and golds lately, so chili pepper for the wall color it was.  It gave it a bit of a zen vibe. 
Now onto the extra bedroom/music room/work out room.  Conquering an aging home one room at a time.
Here are some before and after pics.  Try not to laugh too hard at the pre-model.  Hey, I've been busy raising kids for the past 26 years!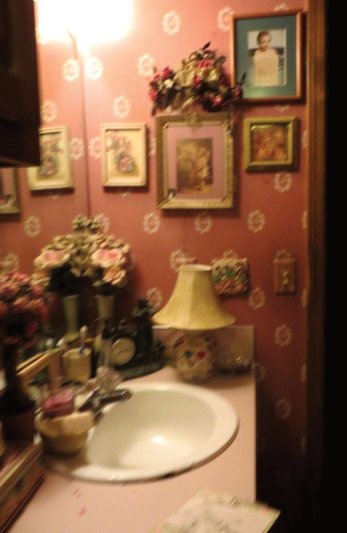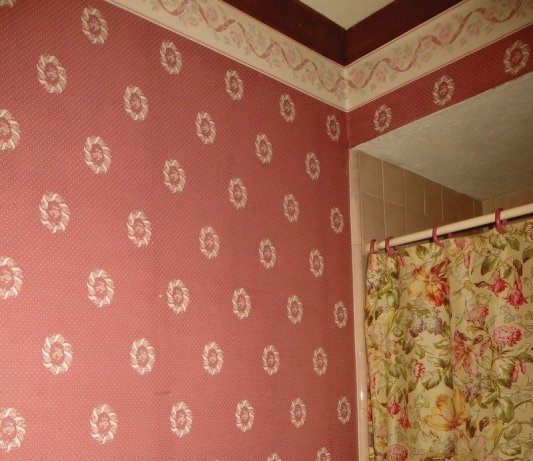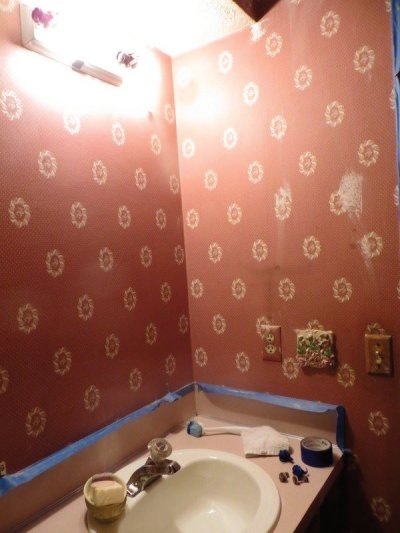 Say goodbye to 1988-ish.  If I just could have stuck it out a couple more years, I'm sure this wall paper would have been chic-vintage.
______________________________
Entering the modern era.  We still have to replace the counter and sink, but I get an "ahhhh" effect now when entering this space instead of "eeek!!!"
I hand painted the filigree swirl pattern at the top.  Just used the same color, but in high enamel, so it shows up as a glossy shadow.  I did the same thing in my hallway.  Subtle, but adds interest.
And Blondie is covering up a small ding in the door---fun way to use an old vintage tee from your glory days~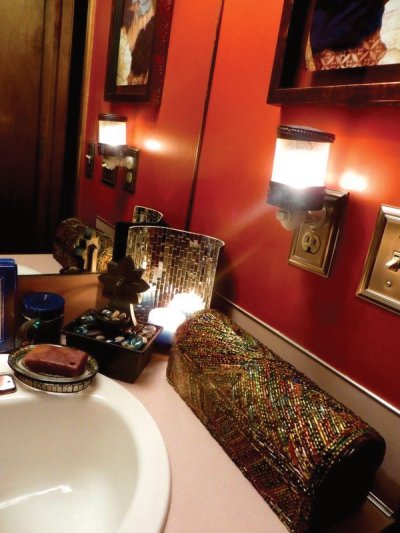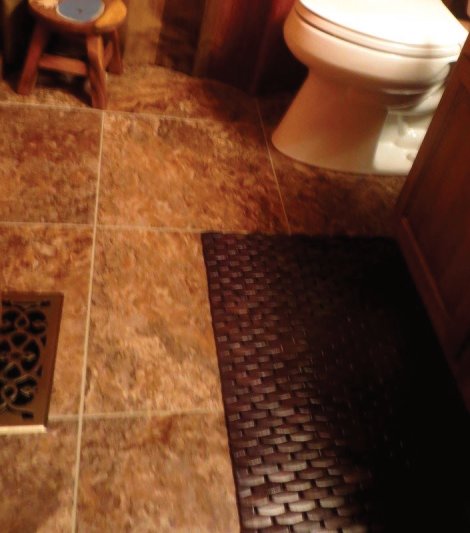 We replaced the old laminate flooring with this ceramic tile look-alike. Laminate tiles (so easy to install) with grout .  Great, inexpensive alternative.  And I love my Target bamboo floor mat.  Forrest still wants a fuzzy one to step out of the shower onto...I'll have to have on handy under the counter for his visits home.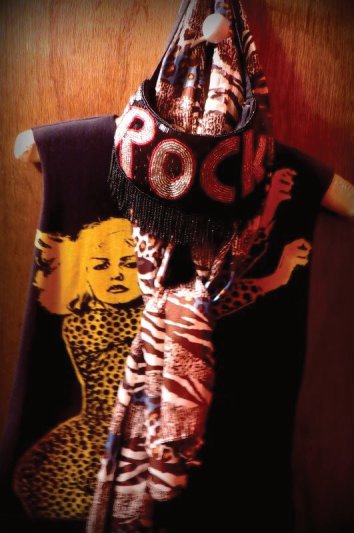 It was a wonderful, exhausting and gratifying week.  My first session of swimming lessons are under way.  Thirty two of the sweetest children are attending lessons for this first two week go around.
We painted our house this week too, thanks to my father-in-law and brother in law helping.  It's dark olive, cream trim with my red door and my old side gate is going to get a make-over with the same red antique finish.  I'll upload the finished project next week.
Busy, busy summer.  Very blessed.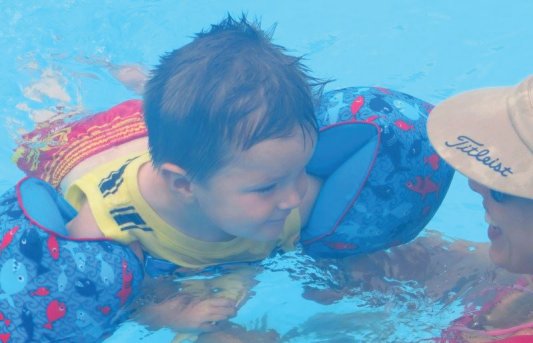 Sweet little Adam was so scared the first day, but I had my assistant snap this pic of him smiling in the water to show his mama that he enjoys lessons.
                  I love hanging out with little people in the summer time~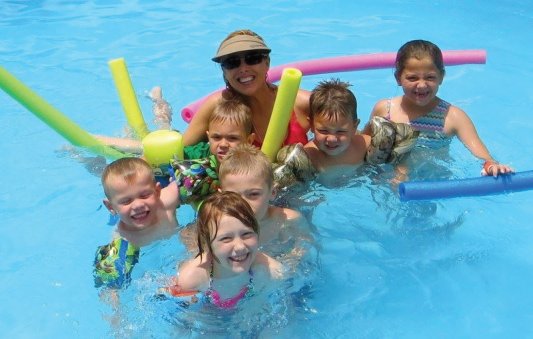 Today's project---paint the munchkin picnic table fire engine red!
No more splinters in the "tails".  The g-babies are going to love it.  Thanks again for the old furniture donation Aunt Shannon.  It'll be perfect for our backyard cook-out tomorrow night.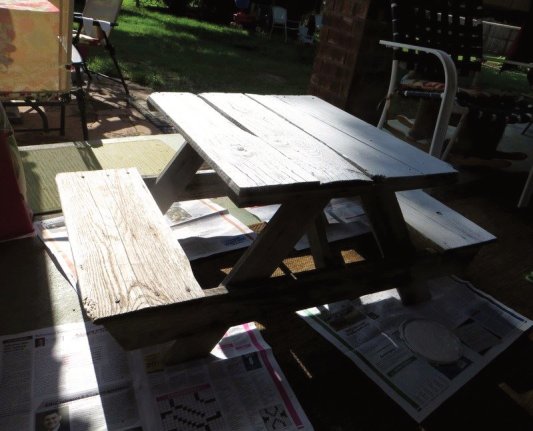 Project start---an old donated children's picnic table, splinters and all.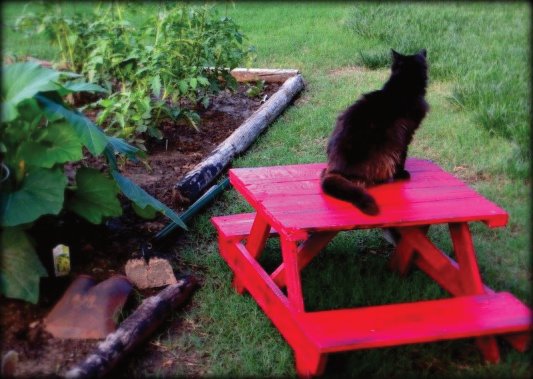 Project finished.  I used fire engine red and rubbed on a dark antique glaze.  Even Queen Carmex the cat loves it.  No more splinters in the tails!

Thanks to cousins Ella and Avery my grand daughter Clara Jane inherited their old vanity, or "banity" as she calls them.
I re-did it this morning in a shabby-chic style to go with her adorable, folk-artsy bedroom.  
I wiped down the old piece, (lots of red lipstick smeared here and there)  then Kilzed it.  I painted it a Robin's Egg blue, then antiqued the finish with my trusty walnut stain, and gave it two coats of polyurethane so our little Diva's new shades of lip gloss can be wiped away with ease.  I finished the stool with the same shade of blue and added a warm orange floral center with highlight to go with all the sweet birds and flowers that decorate her room.
All of Clara's princess gear will fit nicely in the big drawers...I started her out with a set of play pearls.  Every Princess should have her own "banity."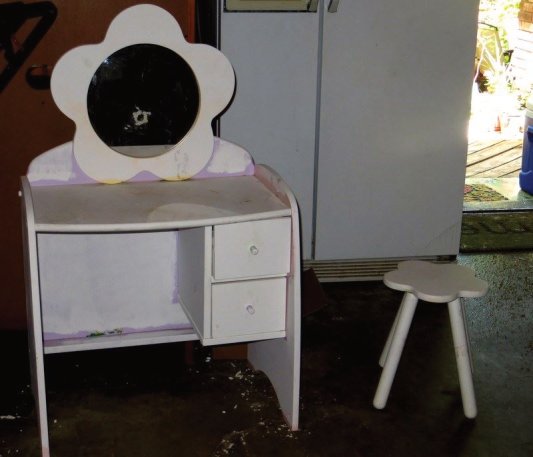 The old vanity with a coat of Kilz started---great to cover all the lipstick stains and fingernail polish.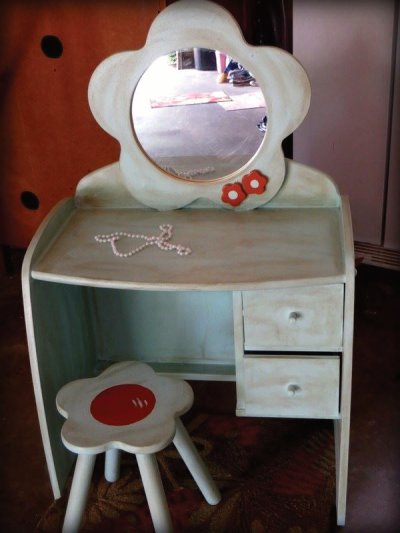 Princess Clara's refurbished vanity---let the beauty begin!
While I had the paint out, I gave these mini school chairs that I picked up for $5.00 a fresh coat of paint and a sunflower each too, of course---Skylar's going to put them out in her backyard for her mini's~perfect for toddlers.
I finally got around to painting my old coffee and side tables in my living room.  My grand son Landon uses the coffee table for a race car track.
I'm glad I didn't dump them.  I painted the tables with a regular old stain latex paint (a good way to use up paint from all those old paint cans accumulating in your garage.)  The top, I painted light olive, the legs black charcoal, and then I antiqued them with a walnut stain by just rubbing in on and off with an old cotton cloth.  I then painted a couple coats of polyurethane over the finish to Hot-Wheel proof it!
Re-use...re-purpose.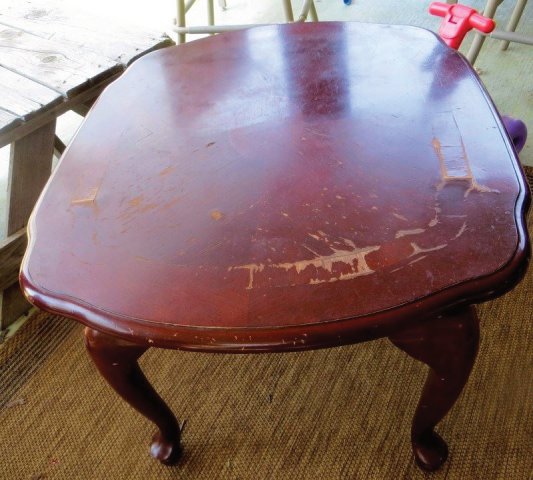 Before---the table tops were worn, but the structure was sturdy.  Time to re-d0.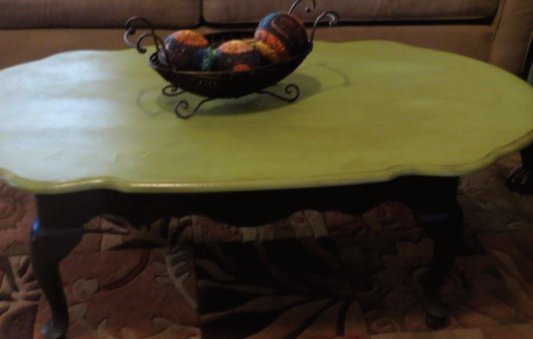 Kilz and painted and ready to sit there and look pretty again, awaiting a Hot Wheel and a toddler with a need for speed.
             I think the olive and the charcoal black goes great together.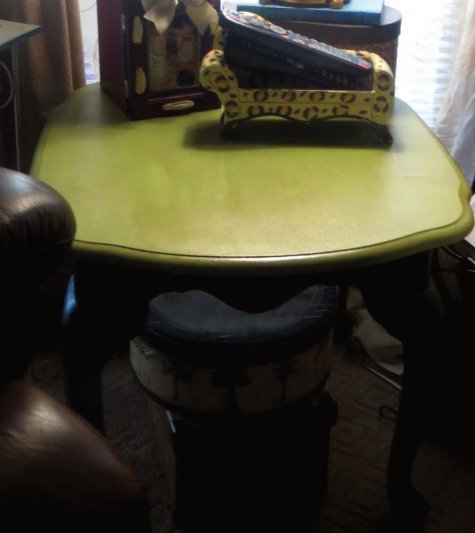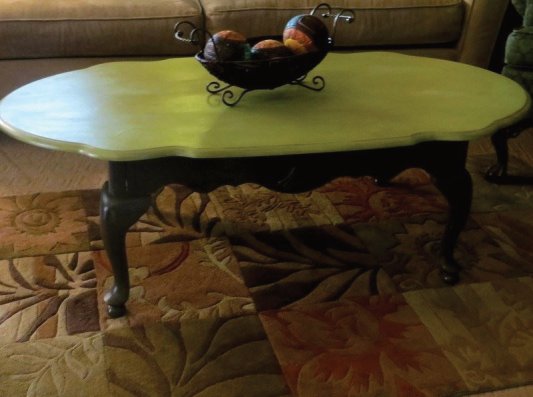 Now go find an old piece of furniture and give it a new life---a very satisfying experience.
I've been threatening to paint my coffee, and end tables for over a year now.  I just had Forrest move them out to the back porch.  I guess that means I have to paint them now.  
Forced motivation.
I'll post a before and after pic.  
Have a great Tuesday all---I'm off to the paint store.

I finally got around to painting my hallway this week.  I used a project I found on Pinterest.  I love it---so much better than the 1988 vintage floral wallpaper. 
The walls were in perfect shape, so I just had to plaster over some nail holes and glue a few small spots of paper down that had lifted a bit.  After two coats of Kilz I painted right over the wallpaper.  I used Valspar eggshell paint, but they matched a color called Autumn Leaves from Wal-Mart, I believe.  It's a fantastic, hip orange number!
After two coats of the lovely, warm orange tone, I drew by hand a pattern guide in chalk (which wipes off clean with a damp cloth once all paint is dry.)  I then painted a leafy-swirl pattern in the same color paint, but in a high enamel formula.  After drying and erasing the crazy white chalk lines viola!!  This pattern and texture gave my hallway a high end designer look for a low end price and effort. 
I love this subtle technique so much, I can't wait to try it as an accent in another room---maybe just over a doorway? 
Next room...hall bathroom.  You'll have to get a load of the "pink" wallpaper that has been hanging out in there since 1986!  Stay tuned.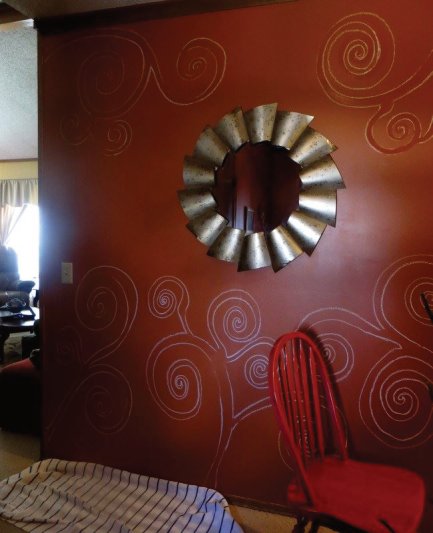 After two coats of Kilz, I painted a lovely, warm orange eggshell color directly over the "vintage" wallpaper.  I then outlined, in a random chalk pattern, a leaf-y swirl-y pattern just as a guide.  I have to admit, it made me a bit dizzy. I was kind of nervous as to how psychedelic it appeared, but after wiping the chalk lines away it left a very chic, original pattern.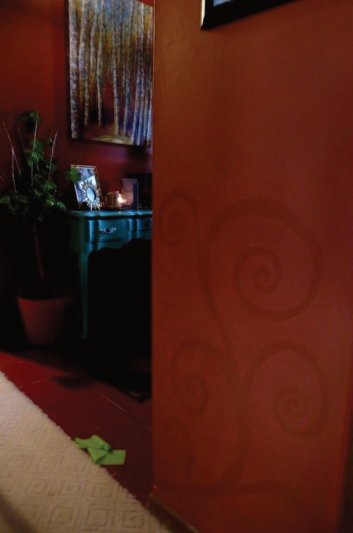 The very cool result!  The high enamel paint in the same color over the matte eggshell finish gave it a subtle, original designer look.  I've gotten so many compliments.  
The Autumn Leaves orange went really well with the Honey Yellow in my living room.  It's a nice transition.  Very, fall inspired.  I just did two walls with the pattern, so it didn't seem too busy to the eye.  Less is sometimes more.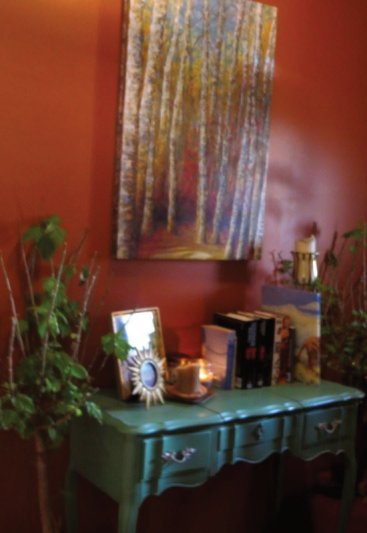 Here's a pic of the entryway off the hall.  (Do you recognize the Hibiscus plants that I kept alive all winter?  I'm excited to kick them outdoors.)  I kept the  entry way walls plain and only did the swirl pattern as an accent on two walls in the hall to make it special.  I absolutely love this color.  So glad I was brave and went orange!
I finished the redo on my dining room set.  I like to re-claim things, and one of the chairs that sits around my table was $10.00 from The Salvation Army store---another is from a corporate sale at The Marriott Hotel in Tulsa for $15.00.  I drive my husband crazy when I drag these things home, and say, "just wait...you'll see." 
I really like how the harlequin pattern turned out on the table top.  Forrest measured and taped off the diamonds for me.  Thank goodness for his math skills...yeah college calculus classes and engineering courses.  It made me happy that he was excited to help me create something new out of our old 1990's furniture.  Even my husband liked the way it turned out---"SEE!"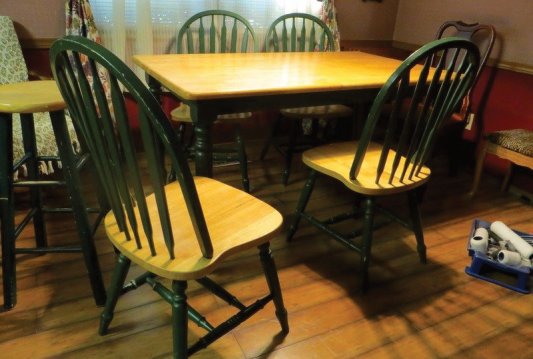 My 1990's shaker style dining set had to go!  It was still in great shape though, so I decided to transform the finish only.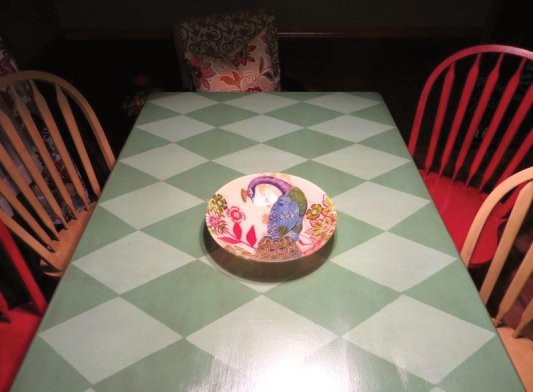 I love the harlequin pattern on the table top.  I used green leaf latex paint, a glaze in the lighter green diamonds, and then antiqued the entire surface with walnut stain.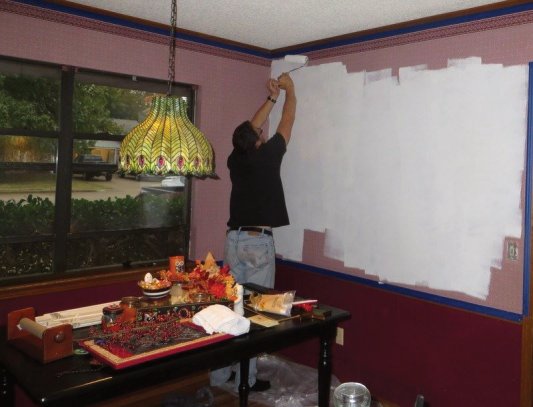 My husband Monty using his gift of height to Kilz over my 1988 "vintage" mauve colored wallpaper.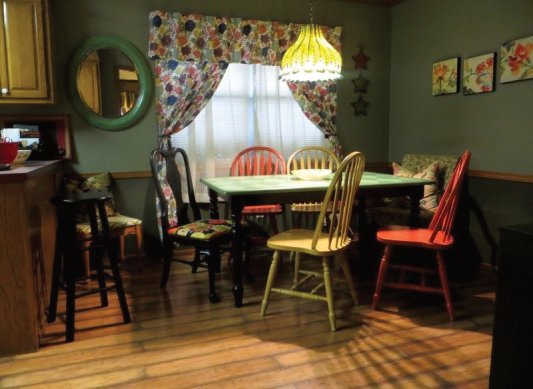 Olive green walls, re-painted dining set, and bar stool, painted mirror, and a little funky fabric helped to pull together a new, fun space for our family to make new memories~
Hmmmm---what can I paint next??
Monty and Forrest went out with our Sunday School class this afternoon to the Coweta paintball field, and came back with several pock marks, scrapes and bruises.

I paint-doored (and paint-dog housed) and received zero injuries. Score me!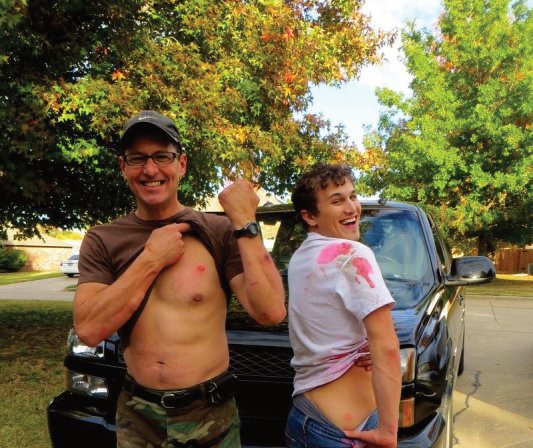 Can you tell which one was charging and which one was retreating?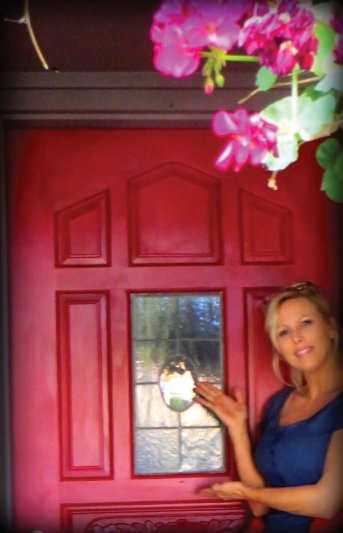 I'd rather paint with a brush than a gun! Putting an antique stain on the door tomorrow.  




Love red doors~








0

/