Shopping Cart
Your Cart is Empty
There was an error with PayPal
Click here to try again
Thank you for your business!
You should be receiving an order confirmation from Paypal shortly.
Exit Shopping Cart
EMPTY ROOMS AND STORAGE BINS STACKED WITH YEARBOOKS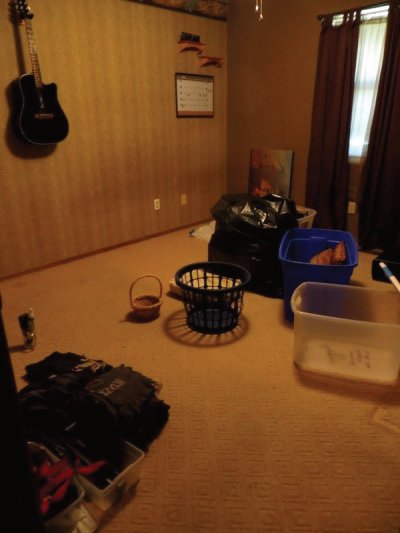 Somebody please tell me this gets easier.
After 26 years of having one (or two children) sleep in this room, and the one next to it, this is what I'm left with today. I'm so utterly proud of all of my children, their accomplishments, their drive, their character and faith, but still feel like a piece of my heart has been ripped out. The baby of the family moved out yesterday, and Monty and I are officially empty-nesters. I'm so thankful that my husband worked so hard for all these years to provide for us, and I could take jobs that let me either bring my children to work with me, such as teaching pre-school, swimming lessons, etc. or jobs that I could work 100% around their schedules, sore throats, and fevers (and music tours ) I'll never regret not having a bigger house, newer car, etc., because I had more time with my precious children while they were an arms length away. My suggestions to young parents is if you can scale back a bit to be able to spend more valuable time with your kids, do it. I promise, it will be a blink of your eye and you'll have an empty room with storage tubs stacked with school yearbooks, one lone guitar hanging on the wall, and you'll marvel at how fast time goes. On a good note, I think all the grand babies are coming over to swim today (I see them almost daily) and I've already talked to Forrest on the phone this morning to answer several "how do I take care of business?" questions, tell him I love him, and make plans to bring groceries to his new house in Stillwater. My goodness, I hope this gets easier~Love my children♥
The Coweta Farmer's/Street Market was great fun Saturday morning.
Skylar and I set a table up to promote SkyTan mobile tanning, and I bought two thorn-less blackberry bushes, three fried pies, (peach and apricot heaven in a crust) three glitter Thunder coozies, and a Superman pillow for Eddie Jett all for under $30.00.
The weather here in Oklahoma has been unseasonably cool, so it was a mild July morning---perfect weather to set up shop in the great outdoors, and peruse other folks wares.  
The Market will be the first Saturday of every month on Sycamore St. in downtown Coweta, from 7:30-12:00.  Come on down next month and pick up some treasures and prize tomatoes!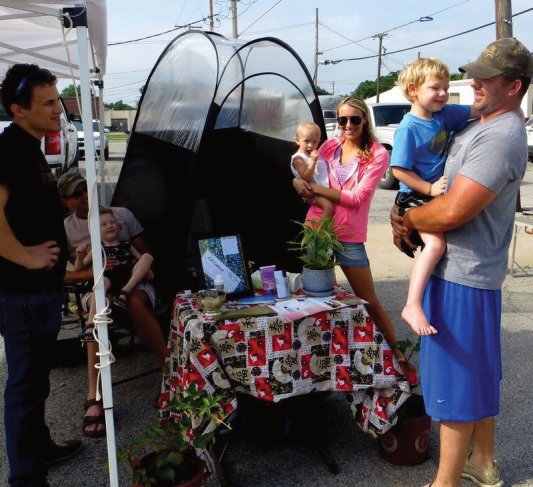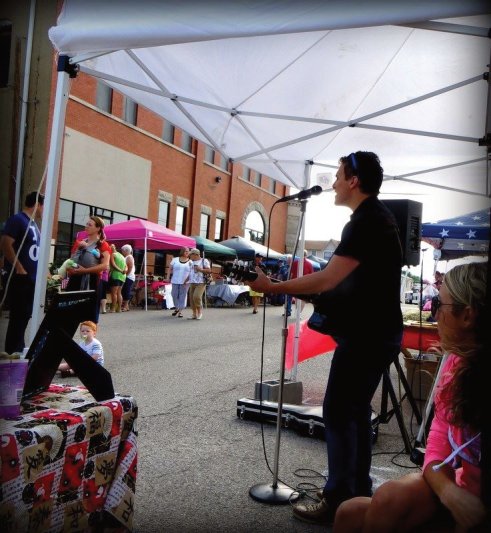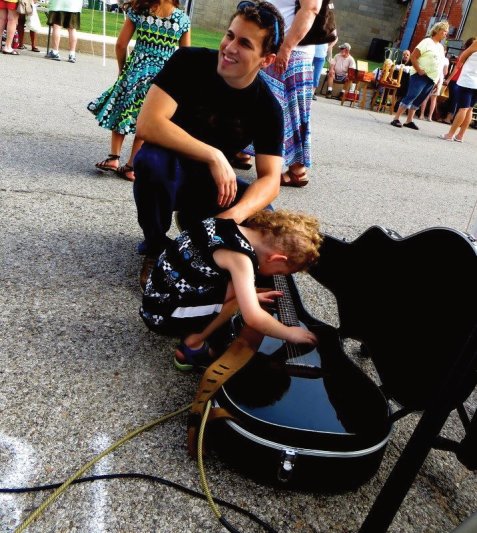 Forrest has a new mini-roadie.  Eddie Jett loves music!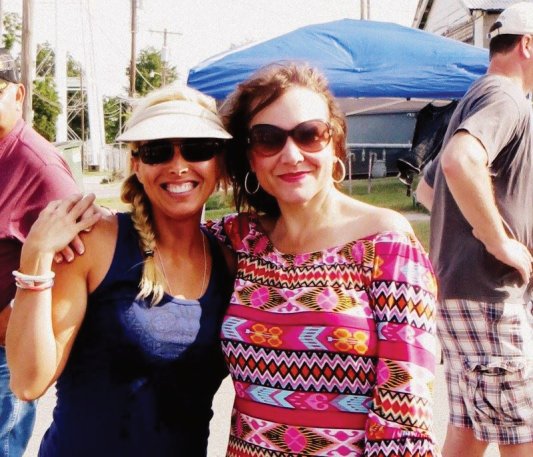 I ran into a beautiful friend that moved several years ago.  Traci McDaniel was in town visiting.  She was Forrest vocal coach when he first began singing.  Traci has the voice of an angel, and is getting back into the music business soon---very talented lady.  We're so excited for her!
What a fun gathering we had this weekend for what turned out to be the final Thunder game of the season.  We fired up the game on a big outdoor screen, and gathered our lawn chairs around, but unfortunately our Oklahoma team's ride to the final two ended Saturday with a loss to the Spurs in over time.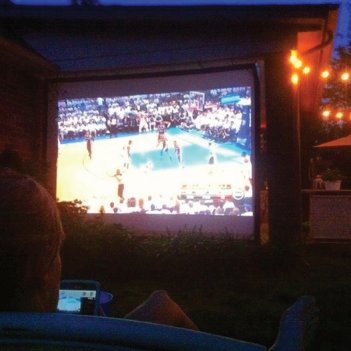 The mood definitely dropped for a few minutes after the close game, but we quickly recovered, manned the bean bag lawn toss game, and Forrest pulled out the guitars---highlight of the night,"Simple Man," sung by Ty and Forrest at our cozy back yard concert.  
Win, loose or draw, you gotta keep singing. Can't wait until next season to root our Oklahoma Thunder on again!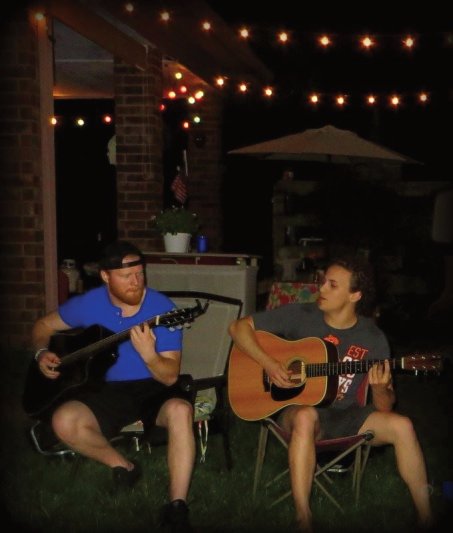 Forrest and Ty lifted our defeated, competitive spirits with a great outdoor concert Saturday night after the Thunder's last game of the season.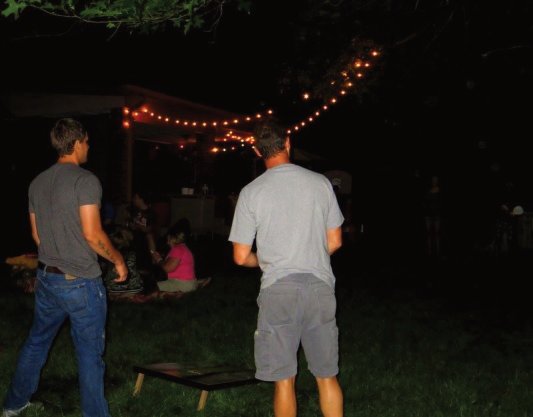 We're addicted to the bean bag toss game affectionately known as "Corn Hole."  You should have heard the snicker I got from the young sales guy at Dick Sporting Goods when I called to ask if they had the game in stock!
MTV Movie Awards were awesome tonight.
Johnny Depp just came on stage, and Forrest asked, "What is he wearing?"
My answer, "Whatever he wants!"
Forrest..."Exactly!"
____________________________________________
A little trivia from 2009 MTV Movie Awards---
Mtv movie awards 2009?
for the "best fight" category,
when they showed the twilight clip, what was the song playing in the background??
thanks..
Best AnswerAsker's Choice
Gone by Crooked X
That was a surreal moment.  Our family didn't even know their song was even going to be played as the Twilight cast came up on stage---Forrest just sat there in the living room with a stunned look on his face.  Good times!
In years past I've played the doting mother, making sure my children remember their lunch money, homework, important appointments, etc. 
When it came to Forrest, I recall reminding him to pack his passport as he set off with an MTV camera crew, and his dad to the beautiful land of Sweden to open for legends of rock, KISS---he was 15 years old.
This morning as I heard Forrest fire up his Chevy pickup, I called him to make sure he had his passport with him for identification. He begins his internship today at a company in Tulsa for his mechanical engineering degree.  
I'm so proud of him for diversifying and marching forward boldly with his education and career aspirations...but, secretly very relieved that I heard him playing his guitar in his room last night.  He's still a cool (math) geek!
That boy...from MTV, rock-n-roll and KISS to engineering and mathematics.  Oh, how the world turns~
Some country fun for your Monday morning.  This is one of Forrest's original songs from his demo. 

This is one to put in the CD player while you're driving, roll down the windows and let the fresh country air blow ya around a bit while you're singing at the top of your lungs.

Yes, I did that---enjoy!
Forrest played in the praise and worship band last night for our community's Trunk-or-Treat at First Baptist Church.
The band all dressed as disciples.  One of his best friend's dad, Judge Doug Kirkley, dressed as Gene Simmons, and our friend Steve dressed as Dee Snider!
John, Gene, and Dee---what a crew!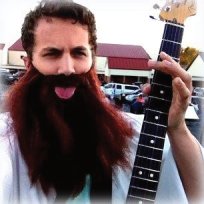 Forrest having fun as a rockin'-disciple!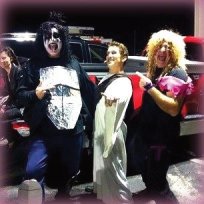 Jesus rocks!


Here's Forrest's newest demo, "Prison Cell." 





Dont' worry...he's not planning on spending his life in the big house.  The song can mean many things.  It's lonely---like a person that's built up walls, and trapped by bad decisions in life...at least that's what I feel.  And the artist himself, told me I was on the right track.  




Enjoy!







Forrest is heading back out to David Teegarden's Studio to record an acoustic version of two more songs he has written over the summer.  I'm excited to see how they turn out.




The clip below was back this spring at Forrest's first visit to his studio. It sure is a cool, state of the art joint---complete with  a Grammy statuette!  Can you spot it?  I love the cameo of the very amazing dude that garnered it as well---Mr. David Teegarden.





Forrest is a happy camper today.



















0

/