Shopping Cart
Your Cart is Empty
There was an error with PayPal
Click here to try again
Thank you for your business!
You should be receiving an order confirmation from Paypal shortly.
Exit Shopping Cart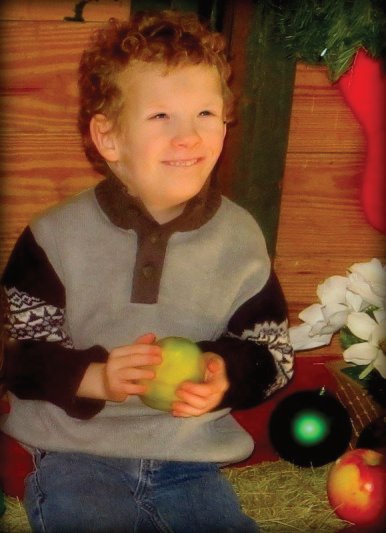 A lot of bad things have happened in this world in the past few months. If you've all but lost faith in humanity take a look at this face, or the face of any young child. This little guy is my Christmas miracle. He will never be a scientist, a rock star, or the president of his fraternity. He will probably never drive a car, or have the privilege of holding a high paying job. Star athlete? Probably not, but he's overcome obstacles that, I promise, would make the strongest man lay down and give up. He's inspired me to be a better person. I look to him as an example of how to love, and how to truly show my love to others unconditionally. He'll never be totally jaded by this world. Even when he's mad it's only because he can't fully communicate the pain he feels physically or emotionally, or maybe just the fact that he wants the dad-gum chunky peanut butter instead of smooth! He's got your back, if you're his friend, and he will flat line you out if he thinks your being unkind to someone he loves. This is the face of what our world needs more of---innocent, unconditional love. Just look~
     My husband and I took our little Eddie Jett to The Warren Theater today for the showing of "Avengers" for children with special needs and their families. It was amazing!
     The kiddos there could be themselves.  They could laugh, have a little stroll down the isle, and make a little noise, which we are totally used to---it was music to our ears. They adjusted the lights and sound so it was conducive to children with autism, genetic syndromes, and other special needs.
     Eddie Jett turned around in his chair  in the middle of the movie, waved and told the other kids "Hi" and yelled out, "Uh-oh," and his classic "You OK??" during the movie, as characters got way-laid--- and it didn't bother a soul there!
     THANK YOU WARREN THEATER in Broken Arrow for your thoughts turned into actions, and for making the movies a fun, exciting and special time for lots of area families and their precious kids.
     I highly recommend, if you have a child with special needs, you get them tickets for next months special movie!!! PS The Hulk was Eddie Jett's favorite---lots of "Uh-Oh...you OK's??"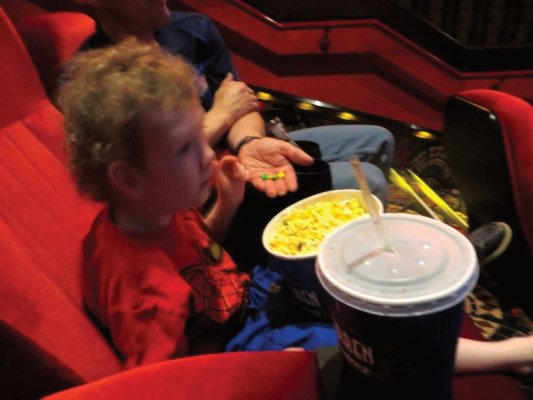 Mr. Spoiled Rotten Pants!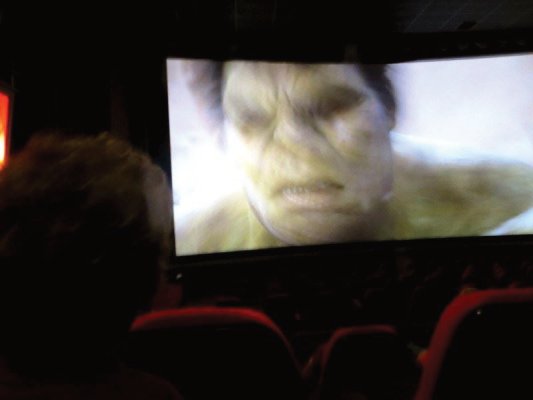 Eddie Jett's quote when the Hulk appeared in the action sequences, "Uh-oh...you ok?"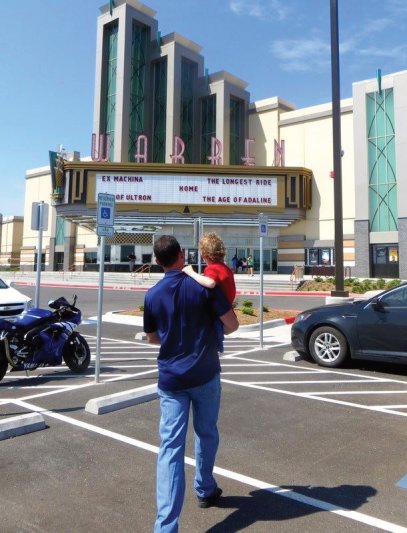 The power of the written word---even if scrawled on a scrap of paper, can truly hug the heart of someone in need.
                                   KIND WORDS ON A SCRAP OF PAPER
My daughter Skylar had our little Eddie Jett in the waiting room at the hospital where he was to have several tests yesterday.  Most six year old's would get antsy, but Eddie Jett could absolutely not comprehend why in the world those four, boring, waiting room walls were containing his free spirit for so long. 
1p36-er's do a lot of waiting in hospitals, and it's virtually impossible to explain to them why they are there or what's about to happen, so needless to say it's most always a very stressful situation.
Poor Eddie Jett was having a major melt-down after an hour of waiting, and no amount of "book reading" could calm him.  He has an incredible memory, and Skylar kept having to pull him back away from the exit as he remembered the fountain in the lobby where he got to throw some pennies in for luck last week as he was leaving the hospital.  He was on a non-covert mission to make a break from the waiting room to chunk change in the cascading water, and each time he was denied he protested louder and louder.
Skylar was sweating bullets and felt like she was about to get voted off the island by the rest of the folks waiting patiently for their names to be called.  She finally resigned to letting Eddie make a run for it for a few minutes down the hallway.  As she headed for the door with her fearless, tiny leader a lady handed her a note very matter-of-factly, without even looking up from her magazine.
Sky sat on a bench outside the waiting room and read the note.  The woman had scrawled a note of inspiration and admiration on a scrap of paper from the cross word puzzel book she was working on.  Skylar had tears running down her face as she snapped back to the moment to retrieve Eddie who was trying to make a run for it on the elevator that he just summonsed by pushing the UP button---he LOVES elevator buttons.
The words that were written made Skylar's week.  They truly warmed her heart and gave her an extra muscle in the mama department that afternoon.  She gained strength from the simple words that the kind woman in the stuffy waiting room wrote down and handed her.
Never, ever underestimate the power of writing, saying, or doing something simple for someone in need.  It just might be what the Dr. ordered for the day, and heal their spirit.
                  Kind words written on a scrap of paper to a mama in need~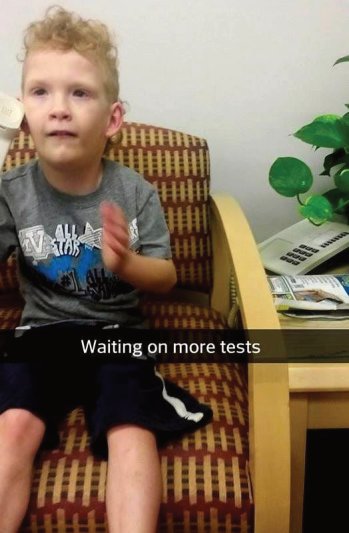 Mr. Eddie on the waiting room phone (that Skylar had to un-plug) trying to call a cab to come pick up from this non-sense!  He's a trooper, and his mama is amazing~
The Coweta Farmer's/Street Market was great fun Saturday morning.
Skylar and I set a table up to promote SkyTan mobile tanning, and I bought two thorn-less blackberry bushes, three fried pies, (peach and apricot heaven in a crust) three glitter Thunder coozies, and a Superman pillow for Eddie Jett all for under $30.00.
The weather here in Oklahoma has been unseasonably cool, so it was a mild July morning---perfect weather to set up shop in the great outdoors, and peruse other folks wares.  
The Market will be the first Saturday of every month on Sycamore St. in downtown Coweta, from 7:30-12:00.  Come on down next month and pick up some treasures and prize tomatoes!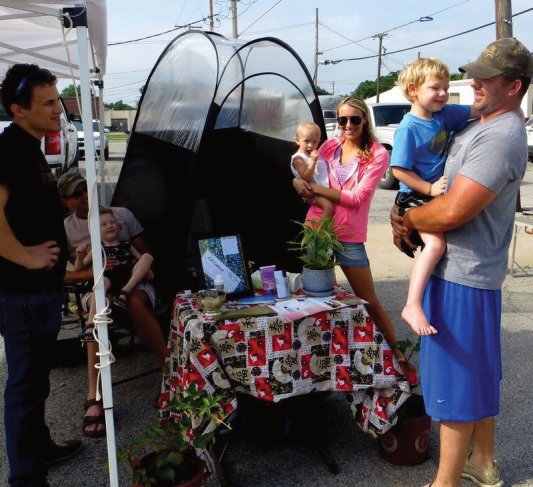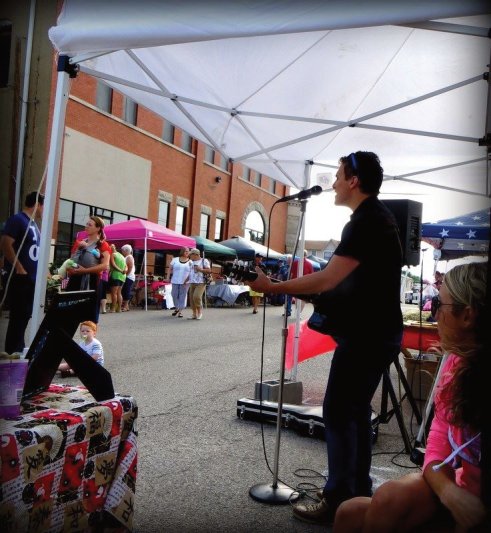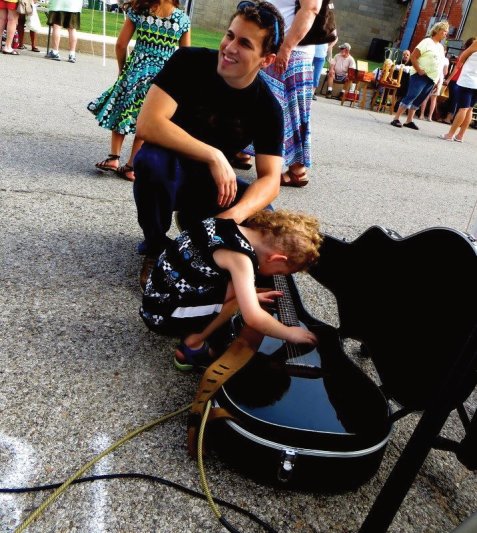 Forrest has a new mini-roadie.  Eddie Jett loves music!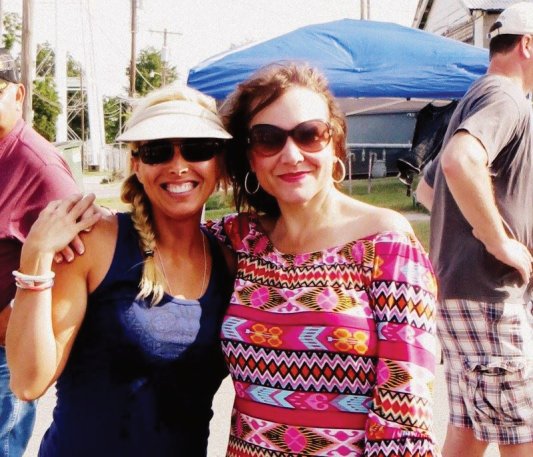 I ran into a beautiful friend that moved several years ago.  Traci McDaniel was in town visiting.  She was Forrest vocal coach when he first began singing.  Traci has the voice of an angel, and is getting back into the music business soon---very talented lady.  We're so excited for her!
Sometimes you just gotta go fast and get a little wind in your curls~
Forrest and Eddie Jett---always wear your seat belts!

                                    If He Could Only Talk~

     A few of my f/b friends saw our family at Senior Salsa after church on Sunday. We had our precious Eddie Jett with us, and I felt bad that he wanted nothing to do with the restaurant.  He didn't want to sit down and eat, and cried much of the time.

     We all took turns taking him in and out of the dining area, but no matter what we did, he continued to fuss. Chips got thrown, as did the little 25 cent toys from the trinket machines we tried to bribe him with. Nothing helped. Monty wolfed his food down and finally took Eddie out to the car to listen to the radio while Sky and I put our food in to-go carriers.

     I went home to change and headed back to Skylar's to help her finish painting her kitchen. When I got to her house, poor Eddie Jett was still a mess---he just whined, cried, and rolled around in my lap. I pulled his jeans off and we got him some "comfy" sweat pants (my personal solution to a bad day.)   Skylar decided to  also take off his socks. When she removed them she realized he had a "goat head" sticker wound up in his tiny sock!!! So the whole time we were sweating it in the restaurant, poor Eddie Jett wanted nothing more than to tell us what was wrong, but couldn't. It broke my heart. 

     I know it's difficult to hear your child complain at times, but be grateful for those sweet voices of communication. Our little buddy couldn't tell us all he wanted was the sticker removed from his sock.  

     After said evil sticker was removed, Eddie Jett was a happy camper for the rest of the day, and I got lots of hugs and kisses.  It reminded me of the story of the tiny mouse that removed the sticker from the lion's sore paw...Eddie Jett and I are friends forever!

     Be grateful for the little things in life.  Words aren't always needed to show love and support.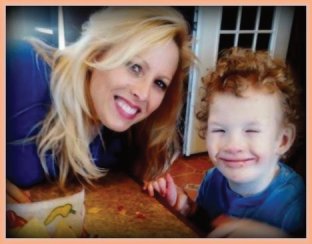 Me and my precious buddy, Eddie Jett at Senior Salsa.  He managed one smile while trying to eat his chips and salsa with a prickly sticker in his little sock! 
Our family had a great time taking all of our little ones bowling Saturday for Eddie Jett's 6th Birthday.  If you haven't taken your preschoolers to the bowling alley go!
They had a blast, and even Annabelle, who's just a year old, was able to tip a ball off of the ramp and watch it roll down the lane and knock down some pins.
There was a video arcade, and music as well.  What's not to love!
Since music is such incredible therapy for children with special needs, we got Eddie Jett his very own boom box for his room, and Uncle Forrest bought him his first Pantera CD. 

Happy 6th Birthday Eddie Jett!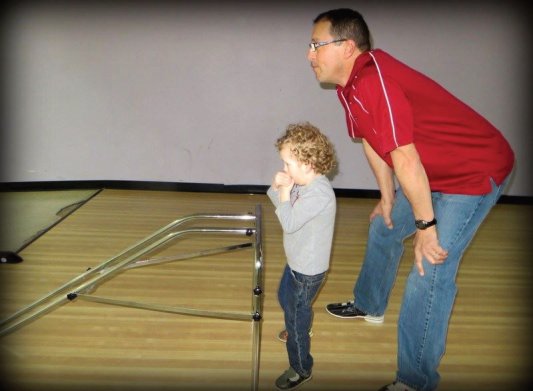 Papa and the birthday boy waiting on a strike~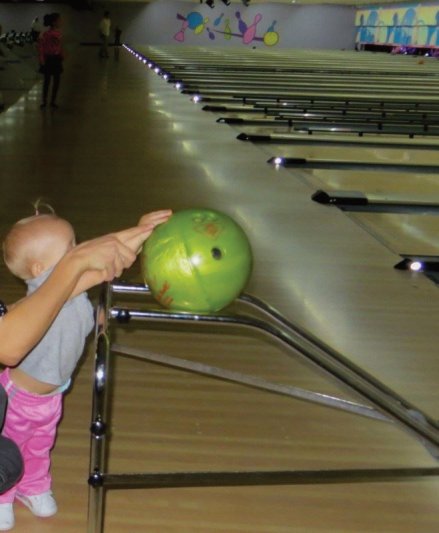 Even little Annabelle was able to help slide a bowling ball down the ramp and knock down some pins---such a fun outing for the kiddos.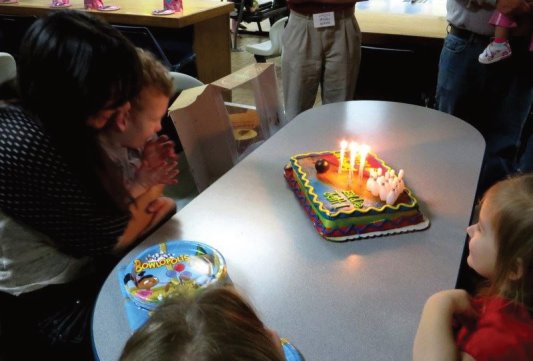 Eddie Jett is always mesmerized by birthday candles--I'm always mesmerized by the promise of chocolate cak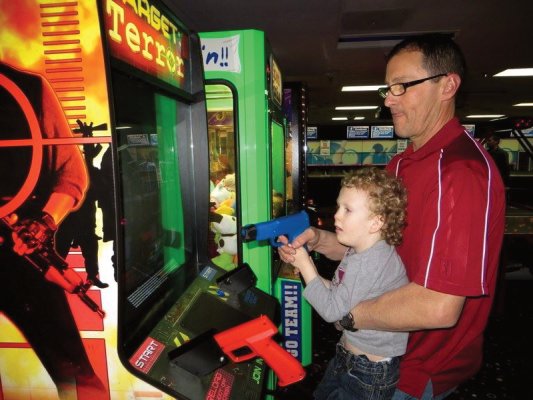 Who had more fun at the arcade 
   in the bowling alley?  Hmmm?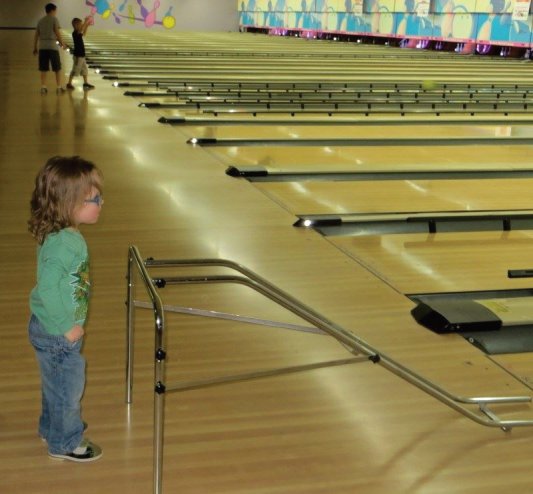 Our little Landon figuring up the mathematical equation to help knock down his 7-10 split.  We were playing outside later that day, and Landon was rolling his truck down his Little Tykes slide.  He turned to me and said. "Ga-Ga...that's INERTIA---and there's also a sling shot effect!"
I sat dumfounded in my lawn chair for a few seconds...and then goggled inertia on the      down low---he was correct!  I need to brush up on my science pronto.
We're celebrating our Eddie Jett's birthday tomorrow at the bowling alley, and I wanted to make something unique for his special day.  He was over the moon for the white candy coating dipped Oreo snowman---as in, he ate six of them at one sitting!
I found this recipe on Pinterest for almond bark dipped Oreo froggies, and knew this was the one.  I think they'll make our precious 6 year old smile.  And I'm going to let him eat as many as he wants---he needs some more meat on his little bones.  Can't wait to hit the bowling alley for the big party!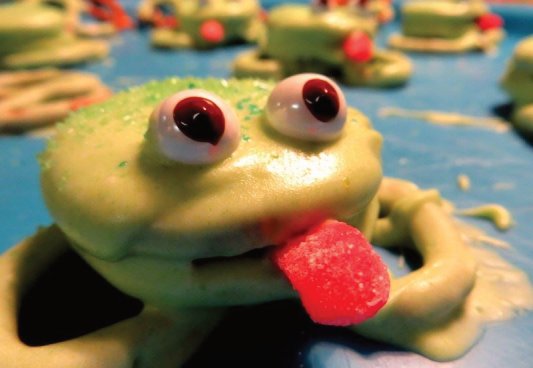 Cookies with personality!  Ribit!!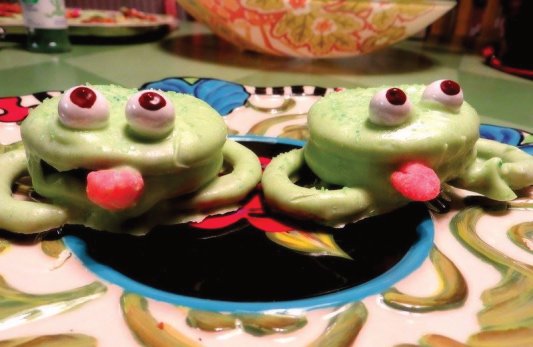 I love how each one came out a bit different.  The one on the left is a girl, and the one on the right is a boy :) ---I checked~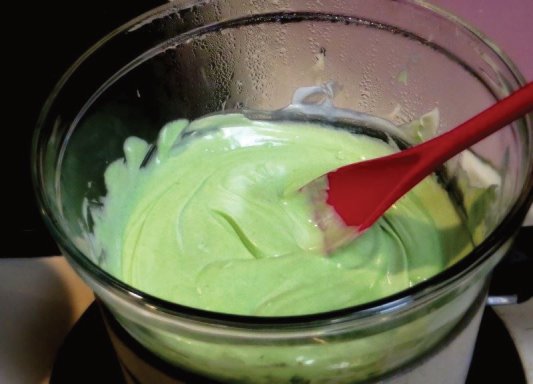 I used vanilla Candy Quick---you melt it in a double boiler and dip your pretzels and Oreos, placing the pretzels down first, and then the Oreos on top to adhere.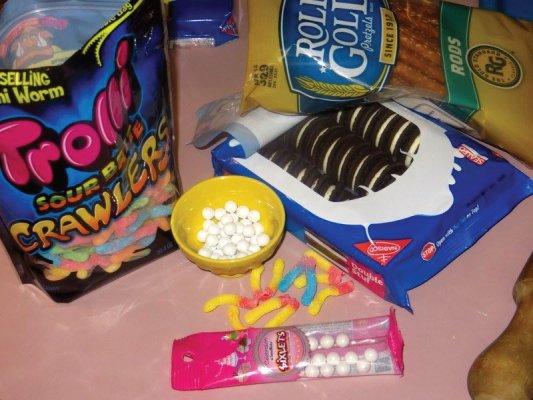 I picked up Trolli Sour Gummie Crawlers and just cut the pink tips off for the frogs tongue, and promptly proceeded to eat the remainder of the candy worm---I love those things.  Walmart had white Sixlets in the cake decorating supply isle that were perfect for the eyes.  I melted chocolate chips with a bit of butter and, (get this) used a CLEAN Q-tip to dot the melted chocolate on the white candies for the pupil of the eyes, which made each little frog just come alive with expression.  These were so much fun to make!  
HAPPY BIRTHDAY WEEKEND TO OUR SWEETEST EDDIE JETT!

I came across a site as I surfed the internet this morning, as I often do, searching for special needs sites that support children with needs, as we have our Eddie Jett angel who has 1P36 Deletion Syndrome.
To my delight and surprise, there was a beautiful photo of my cousin with her amazing special needs daughter, Zoe (The Mighty Z) on the first page of the web site! 
The site requests notes from other families with children that have special needs. Below is the note I sent to them.  
_________________________________________
Good morning!
I just found myself, as I do so often, surfing through special needs sites.  One in particular was the "Variety" organization that I heard of at our local Cinemark Theater during the movie and advertisement trailers.
I spotted your site, which had a to-the-point name and clicked on.  To my utter surprise and delight, there was a portrait of a beautiful family enjoying a day at an amusement park, and the amazing girl being featured was none other than my sweet cousin's daughter, The MIghty Z!! What a small (internet) world!
My family also has a precious special needs angel---my very first grand child, my daughter Skylar's son, Eddie Jett. 
Eddie Jett has 1P36 Deletion Syndrome.  Soon after he was born he was rushed to the intensive care unit, as he was struggling to breath. He was fitted with a G-tube to help him eat, because he could not nurse.  All three of my children were born extremely healthy, and grew up to be beauty queens, Valedictorians, and rock stars---seriously, my son opened for KISS in Stockholm, Sweden at the ripe old age of 15 years old as the lead singer/guitarist for a teen MTV--Capitol Record, rock band!
I never in my wildest dreams, or nightmares, thought I would have anything but healthy, perfect babies in our family, and when Eddie Jett was born it was heartbreaking.  Doctors couldn't even diagnose his issues, so was sent home with my young daughter after a month in the Nic-U.  We were left with a million unanswered questions. 
After quite a few midnight cries, more out of fear and exhaustion than pity, my daughter and I bucked up, tightened the girth on our saddles and jumped on for a wild, unpredictable ride into the unknown.
I stepped in as Skylar's wing-man, and became a hands on Ga-Ga.  We took our Eddie Jett to doctor after doctor, only to be passed off from office to office---specialist to specialist, as we continued to just maintain Eddie Jett's life by siphoning nutrients through a tube into his tiny belly.  He didn't cry, coo, smile, or interact with us until he was over 3 months old.  He was a silent, expressionless, but most precious infant. 
I'll never forget standing at the check out line at Wal-mart when my cell phone rang.  It was Skylar.  She was weeping and yelling as she let me know that Eddie Jett had  started CRYING that day!  Yes, everyone within an ear shot of me heard this crazy woman shouting, "HE CRIED!!! OH MY GOSH!!  HE CRIED!  Skylar, that is AMAZZZZING!!  Praise God!!!  He CRIED---yipppeee!!" 
Yep, weird situations like this one happen a lot when you have a special needs angel.  You celebrate the boulders that seem like tiny milestones to those with healthy children.
After much research, and finally a trip to a genealogist in Tulsa, Eddie Jett was given the grave, extremely rare diagnosis of 1P36 Deletion Syndrome.  The internet, and Google became our worst enemy.  Genes aren't something you can just "fix."  You can't regenerate the tips of the 1P36 our baby was missing.  You don't want to hear about the mortality rate, or bleak symptoms and deficits that come hand in hand much of the time with 1P36. The heart problems, the leukemia, the wheelchairs, the permanent feeding tubes, etc., etc.
Doctors didn't think Eddie Jett would ever eat on his own---a blizzard hit Oklahoma when Eddie Jett was 2 years old.  He pulled his Mic-Key button out, it was lost, and my daughter couldn't even get out of her drive way to get him to the hospital to replace it.  She placed a tea towel over the hole in Eddie Jett's little belly, and he began drinking and eating soft foods orally that week, with my daughters unwavering dedication and courage to her special needs son.  Docs didn't think he would ever walk.  He took his first steps at 3 years old in my living room as we enticed him with his  favorite obsession...popcorn.  Of course, he would never run---Oh yes he is!  He is trucking along in his precious "ET"-ish gate, and keeps up with his toddler cousins now!  He is not suppose to ever be able to speak, but believe me, we've worked and worked with  him, and he can say Mama, and Ga-Ga, as well as a few other select words in his own, Eddie Jett way.  But, he could have called me Mud, and I would have said, "Yes!!! My name is Mud!!
Eddie Jett turns 6 years old this weekend.  He has inspired each and every person in our family---even his uncle rock star. They are very tight, as Eddie Jett is a nut for loud, heavy music.  His favorite song, is one that his Uncle Forrest recorded called, "Sweet Goodbye."  One of Eddie Jett's favorite things is to get in his car seat, I  roll down the windows, and play it loud as the wind whips through his epic, blonde curls.  He even sings along with the chorus---his cue word is "Goodbye."  He swings his head from side to side, lifts his fingers in an orchestra conducting manner, and sings the word over and over with the CD with the hugest, life-is-grand smile on his handsome face.
Oh how we love our Eddie Jett.  God sent him to our family, and we would never be the same.  Even though I've always considered us to be humanitarians, and lovers, Eddie Jett has taught us so much more about humility, patients, and unconditional love than we could have ever imagined possible.  If I'm ever having a bad day, I can promise that just the sight of Eddie Jett's little school picture (he's now in Coweta's special needs class---another milestone) that's hanging on my fridge, makes my heart soar, and I cannot help but to smile from ear to ear!
Thank you for letting me share our story.  Our family is very blessed to have our Mighty Z, and Eddie Jett the Rock Star!  It can be scary at times, dealing with the medical issues, and frustrating when we don't get the answers we feel we need in a timely manner, but on those daunting days, we get in our car, turn up the music, roll down the windows and just sing along with our beautiful, inspirational song bird, Eddie Jett ~~
Much love,
Jody French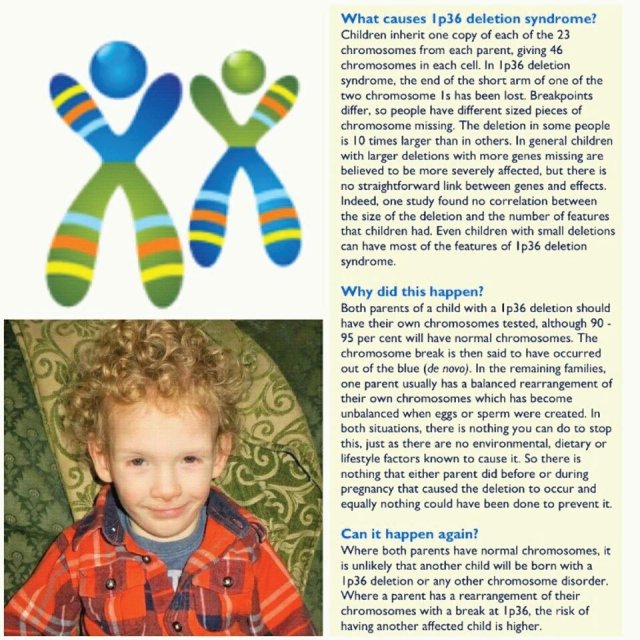 0

/